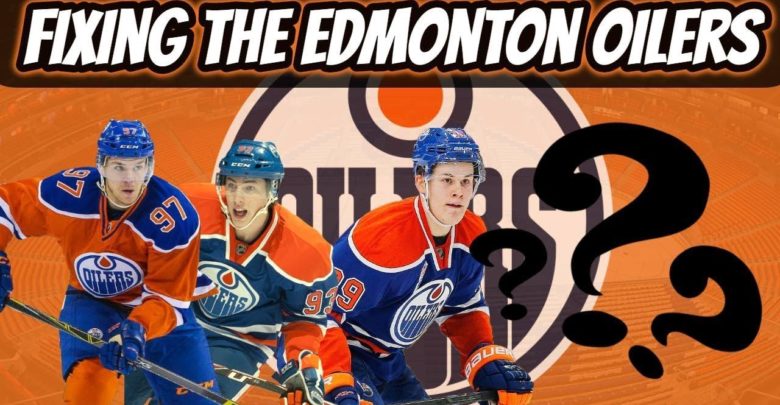 Since the firing of GM Peter Chiarelli, much has been made in various media outlets about how to fix the Edmonton Oilers.
That's it. Article over. See you next week, friends!
Just kidding, of course there is a way to fix the Edmonton Oilers that is not named Connor McDavid. I mean… not exclusively.
We will be following a modified version of Alcoholics Anonymous 12 steps to recovery for fixing the Oilers, so follow me on this ride:
Admit that you're powerless over hockey, and that the team has become unmanageable;
This is a good place to start. Fans have pretty well come to terms with the fact that outside of Draisaitl and McDavid, the Oilers pretty well suck. The losing culture has perpetuated through a few years of futility, and though the Oilers made the playoffs once since their perpetual rebuild started. Fans are throwing very expensive jerseys on the ice, which is akin to just flushing a pretty decent ticket down the toilet; however, there is still hope in Edmonton… at least they're not throwing waffles…
Come to believe in the presence of a higher power;
Gretzky is back in town! No, not that one. Not even that one. A Gretzky once made magic in Edmonton, and there's no reason to believe the name doesn't carry some mojo around town; however, the fans, and perhaps the ownership group, have to let him do his thing; that is, if he stays on longer than interim GM…
Make a decision to turn your will over to said higher power as you understand it;
See above, have faith in the progress and accept that sometimes first round draft picks are better off staying and playing through their funk while adding other pieces through the draft or with prospects
Not you, you sucked.
Make a searching and fearless talent inventory of the team;
We all know it, you should too. Outside of Connor McDavid and Leon Draisaitl, there isn't much shining talent in this team. Ryan Nugent-Hopkins is a smooth-skater with quick hands, but he's hardly ever given the chance to take the spotlight. Milan Lucic was great with the big bad Bruins, but this team should be built for speed and overwhelming offense. Darnell Nurse maybe needed one more year of development. At least Mikko Koskinen has made Cam Talbot expendable, but that's hardly goaltending depth…
Admit to everyone the exact nature of the wrongdoings;
Peter Chiarelli traded away Taylor Hall and Jordan Eberle. We can speculate to our hearts' content as to what the Oilers would look like today if Chiarelli hadn't gone all Mad Mike Millbury on the Oilers. The fact of the matter is that the fans are sorely disappointed. Rebuilds take time. Build around a bona-fide generational talent (like McDavid), and go from there.
Be entirely ready to have the higher power remove all defects of team;
In this one, we're referring to McDavid. He can't possibly score more, can he?
Humbly ask the higher power to remove shortcomings;
There is a lengthy laundry list of what the Oilers need to become cup contenders: depth scoring, defense, depth defense, goaltending depth, some semblance of a future changing of the guard… Hey, I wonder if they can get their own former superstar to come up with a 5-6 year plan a la ShanaPlan… Maybe a Gretzky Gambit?
Make a list of all those who were harmed and make amends with them;
Firstly, good luck trying to convince the Devils to "take backsies" Taylor Hall. Start with the fans. Bringing back Sam Gagne was a start. For the love of god, Oilers tickets should be one of the easiest to obtain. Yes, the highest paid player in the league isn't cheap; however, ownership should recognize that they need to take a loss to restore goodwill and stop the fans from jumping ship altogether.
Make direct amendments where possible;
Jersey giveaway nights? Done. Promotional bobbleheads? Yes! There's probably a market out there for hilariously outdated former can't miss prospect bobbleheads. Maybe use those extra rookie Nail YakuPopVinyls revenue to jazz up their pamphlets? In more realistic terms, it's better if highly-touted prospects are given plenty of opportunity to blossom in the minors or their junior teams instead of being rushed to the big leagues to crash and burn.
Continue making an inventory, admit when wrong promptly;
As with the normal operations of most other teams, keep a running tally of where the weaknesses lie, and make moves to try to plug those holes in the lineup without sacrificing the future. Build from within when possible and capitalize on good available talent when possible. This is probably something to be done after year 3 of the Gretzky Gamble, since ShanaPlan was already taken. Maybe less throwing Tobias Rieder under the bus and more fault admission?
Seek through support conscious contact with the team, praying for their success and their will to carry that out;
Exciting hockey breeds excited fans. Loud crowds make for a great atmosphere and players want to play in boisterous buildings full of adoring (not micromanaging) fans.
Having had a hockey awakening as a result, carry this message to other Canadian teams, and practice these principles so we can maybe get a Stanley Cup north of the 49th parallel.
In other words, they have one complete offseason (unencumbered by playoffs) to figure out a way to do everything Toronto has been doing… sort of.
Love Reading About Hockey?

Subscribe to keep up-to-date with the latest and most interesting hockey news!
| | |
| --- | --- |
| | We hate spam just as much as you |