Featured
PEDitorial: Sleepy Trade Deadline Coverage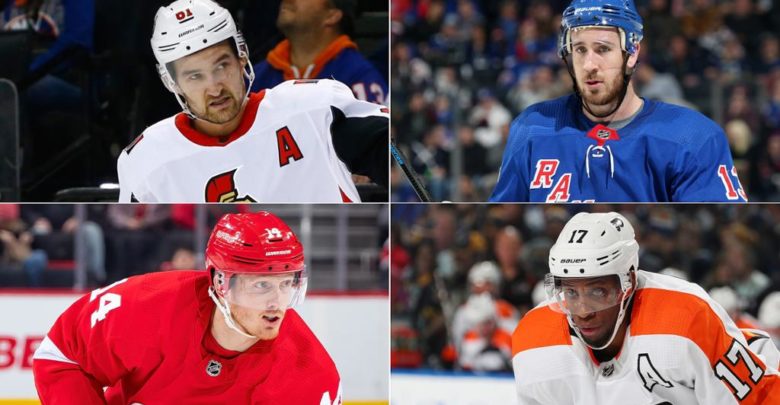 Live from a few days later (sorry), it's my two cents on the moves made by teams. Note that as this is an editorial, this is purely opinion based. A lot of guys were traded leading up to the trade deadline, so we'll start with some pre-deadline moves:
January 14 – Ducks trade Andrew Cogliano to Stars for Devin Shore
Arguably the first big move of the trade season, Cogs is a decent player with the 4th longest iron man streak in NHL history; however, the Ducks needed to make some moves to "Shore" up their lacking offense. Cogs' trade came in the midst of a 12-game losing streak for the Ducks that likely cost Randy Carlyle his job. In my opinion, this trade was about even, and set the tone for a lot of hockey trades later.
January 17 – Ducks send Luke Schenn and a 7th to Canucks for Michael Del Zotto
Remember when Luke Schenn was the can't miss defenseman? I often remind my friends as much as I can that the Toronto Maple Leafs picked him fifth overall in a class that included Erik Karlsson and Jordan Eberle, both of which were picked later on, but I digress. The Canucks actually ended up winners in this one, as Schenn appears to have settled into Vancouver's lineup quite nicely; however, Del Zotto would not be long for Anaheim…
January 17 – Nino Niederreiter for Victor Rask
Another hockey trade featuring two lineup players. Though hardly a blockbuster, it capped off a day that included several trades, which indicated that the frenzy may begin prior to the trade deadline… however, it was not to be, as there was some quiet time beforehand.
January 28 – Leafs start Buzzin' for Muzzin
I'll just leave this here, as I've discussed this one a bit in-depth…
February 1 – Penguins and Panthers link up
The Penguins sent Derick Brassard, Riley Sheahan, and three picks to Florida for Nick Bjugstad, and Jared McCann. Slightly biased on my part, but I think the Penguins won this trade: Bjugstad is a bit of an upgrade to Brassard. McCann and Sheahan are both young forwards with promising futures and serviceable third or fourth-line centres that could come up as needed. The Panthers obtained a few pieces for the future in the shape of three draft picks, but they would go on to flip Brassard later on…
February 16 – Oilers make moves
The Oilers shipped off Cam Talbot to Philly for Anthony Stolarz, who was one of about three hundred goalies that dressed for the Flyers. Cam Talbot has a chance at regaining his number one position, but has competition from up and coming Carter Hart, established veteran Brian Elliott, and (if he's ever not injured) Michael Neuvirth. The Flyers win this trade, if only because their goaltending future looks promising if not crowded. The Oilers then sent Ryan Spooner to Vancouver in exchange for Sam Gagner's second stint as an Oiler.
February 21 – The Washington Penguins
Washington continued its storied tradition of getting former Pittsburgh Penguins by acquiring Carl Hagelin off the LA Kings for a 3rd rounder and a conditional 6th. Funny how Jagr, Niskanen and Orpik weren't enough…
February 22 – First big domino
If you're fortunate enough to be Canadian, you would have been able to watch TSN talk non-stop about whether/when Matt Duchene was going to be traded. They had a trade bait board, and Duchene was near the top of that list. Well, GM Jarmo Kekalainen of Columbus was the first to land a big fish by trading for Matt Duchene. They also temporarily took Swedish prospect Julius Bergman in exchange for two picks and two prospects. Not a bad haul, Kek.
February 23 – Warming up (Reverend in Dallas, the Columbus Senators and the unfortunate case of Mats Zuccarello)
Dallas traded for Ben Lovejoy for Connor Carrick and a 3rd. Dallas strengthened their defense by bringing a proven winner in Lovejoy, while Jersey received good consideration in Carrick. Dallas was not done there, by trading two draft picks to the New York Rangers for Mats Zuccarello. Zuccarello would go on to set a fire in the Stars lineup by scoring in his debut, then promptly getting injured and being out for four weeks. Way to start with a bang.
Jarmo Kekalainen wasn't done with Ottawa either, trading for Ryan Dzingel. The cost? Anthony Duclair and two draft picks. The catch? Duclair and Coach Torts were not exactly seeing eye-to-eye, so Kekalainen absolutely fleeced Ottawa prior to the deadline; yet he STILL wasn't done.
DEADLINE DAY: February 25
The day started off with Gustav Nyquist going from Detroit to San Jose for a couple picks.
After a smaller trade between Ottawa and Anaheim, Kek would strike again, this time trading for Keith Kinkaid in exchange for a draft pick as an insurance policy when Bobrovsky leaves Columbus this year as an Unrestricted Free Agent.
Kevin Hayes would end up going to Winnipeg in a power move by the Jets, hoping to capitalize on his current career year by sending their first round draft pick in the upcoming draft as well as forward Brendan Lemieux and a conditional draft pick.
The Panthers would flip Derick Brassard and a conditional 6th to the Avalanche for a third rounder. Brass would make an immediate impact in Colorado, scoring in his first game.
Kek, still not fully satisfied with his roster, flipped prospect Julius Bergman and a few draft picks for tough guy, Adam McQuaid. Maybe Panarin will want to stay after seeing that he has some protection…
The Wild and Predators would swap Granlund and Fiala in another hockey move of a roster player for another roster player, but that was just clearing the way for the excitement…
BIG GAME HUNTING
The deadline had passed, but as customary, some trades trickle in after the deadline (as a result of the paperwork being processed beforehand but the media taking some time to catch up):
Mark Stone ends up in Vegas, Wayne Simmonds ends up in Nashville, Marcus Johansson ends up in Boston, Goalie Bob and Artemi Panarin end up staying pat in Columbus, fireworks ensue, and the trade deadline is over!
Winners:
Columbus Blue Jackets – they get to keep Bobrovsky, Panarin, plus they've added crucial pieces. Kek's message is clear; we are going for it this year, Tampa be damned.
Mark Stone – not only did he leave the tire fire that is Ottawa, but also he got a sweet contract extension in Vegas for eight years.
Losers:
Ottawa – their rebuild is clearly on, and now everyone knows it. Expect the pesky sens to be less pesky and more pestilent.
Mats Zuccarello – He's only a loser in this for something that he couldn't help – he was injured. It wasn't his fault. It looked like he would help the Dallas Stars go places, but instead, he's only watching from the executive suite.
Zero Net Gain:
Tampa Bay Lightning – Why mess with a good thing? The Lightning's last trade was on January 2nd. They're set. It's their year to lose it.
New York Islanders – See above. Despite losing John Tavares in the off-season to Toronto, the Islanders are winning the Metropolitan Division. They stood pat at the deadline, and who could blame them?
Love Reading About Hockey?

Subscribe to keep up-to-date with the latest and most interesting hockey news!
| | |
| --- | --- |
| | We hate spam just as much as you |