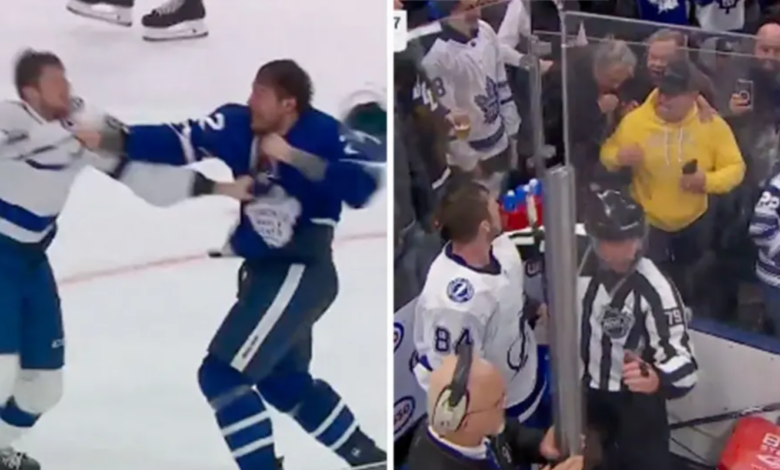 On the scoreboard last night, the Leafs laid a beatdown on the Lightning metaphorically, and defenseman Luke Schenn of the Leafs beat his opponents physically. In the third period, with the Leafs leading the Lightning 6-1, Schenn and fellow Saskatchewanian Tanner Jeannot engaged in a competitive fight.
See it for yourself:
WHAT A TILT 💥 pic.twitter.com/2ZwJZVcdCW

— Spittin' Chiclets (@spittinchiclets) April 21, 2023
What a tilt, for sure!
If that wasn't exciting enough, a Leafs spectator even attempted to scale the glass to reach Jeannot in the penalty box area.
A Maple Leafs fan started messing with Tanner Jeannot in the penalty box 👀 pic.twitter.com/hXEsQihbtS

— Sportsnet (@Sportsnet) April 21, 2023
Dude in yellow getting escorted out. He climbed the glass before this clip to yell at Jeannot. Woman in 22 banging heavily on glass earlier too, now being talked to by security pic.twitter.com/zaEFkHD5eo

— David Pagnotta (@TheFourthPeriod) April 21, 2023
The fan was escorted out of the building by security.