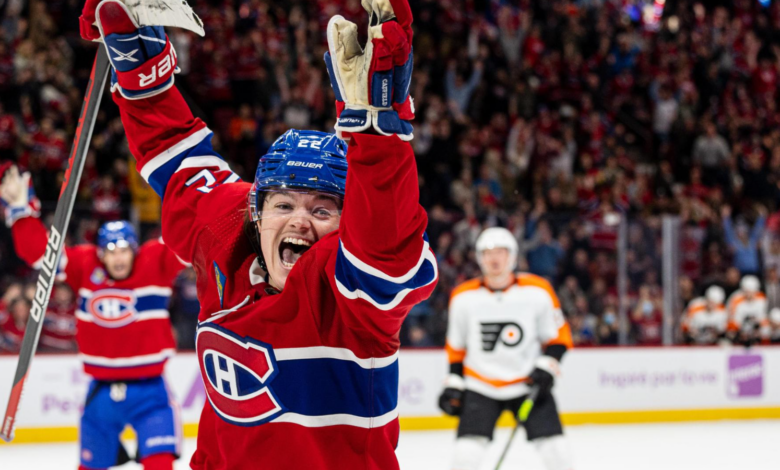 Offer sheets are a rarely utilized tool in the NHL, which can either greatly help your team, or handicap you for years to come. An offer sheet is when a restricted free agent signs with a team other than his own. Depending on the value ($) of that contract, the team who signs the player must give their current team draft picks as compensation. The team who originally held the player's rights gets a week to determine if they will match the offer and keep the player, or let him leave and take the draft picks.
According to a recent revelation from Flyers reporter Jesse Bell about the Flyers' offseason actions, they might be considering using the offer sheet to sign intriguing young forward Cole Caufield.
Hearing per @macdubhockey the #flyers may offer sheet Cole Caulfield from the #Habs It's a possibility and need to find the right number. Compensation varies on AAV. Could be 4 1st rounders if it's over 10m. I would say 9 m X 7 years. MTL would prob match. #fueledbyphilly

— Jesse Bell 🍺 (@Jessefromdelco) May 21, 2023
Even though Caufield's second full season with Montreal had to stop early due to shoulder surgery, the kid was on pace to score just around 50 goals. He is currently one of the league's most thrilling shooters and would be a great addition to Philadelphia.
Fans expressed their disapproval of this proposed action in response to this report. A small, goal-scoring winger isn't one of the Flyers' current top priorities, according to many supporters, and parting with top selections for Caufield might hinder the rebuilding process.
Hearing per @macdubhockey the #flyers may offer sheet Cole Caulfield from the #Habs It's a possibility and need to find the right number. Compensation varies on AAV. Could be 4 1st rounders if it's over 10m. I would say 9 m X 7 years. MTL would prob match. #fueledbyphilly

— Jesse Bell 🍺 (@Jessefromdelco) May 21, 2023
Hearing per @macdubhockey the #flyers may offer sheet Cole Caulfield from the #Habs It's a possibility and need to find the right number. Compensation varies on AAV. Could be 4 1st rounders if it's over 10m. I would say 9 m X 7 years. MTL would prob match. #fueledbyphilly

— Jesse Bell 🍺 (@Jessefromdelco) May 21, 2023
Hearing per @macdubhockey the #flyers may offer sheet Cole Caulfield from the #Habs It's a possibility and need to find the right number. Compensation varies on AAV. Could be 4 1st rounders if it's over 10m. I would say 9 m X 7 years. MTL would prob match. #fueledbyphilly

— Jesse Bell 🍺 (@Jessefromdelco) May 21, 2023
Hearing per @macdubhockey the #flyers may offer sheet Cole Caulfield from the #Habs It's a possibility and need to find the right number. Compensation varies on AAV. Could be 4 1st rounders if it's over 10m. I would say 9 m X 7 years. MTL would prob match. #fueledbyphilly

— Jesse Bell 🍺 (@Jessefromdelco) May 21, 2023