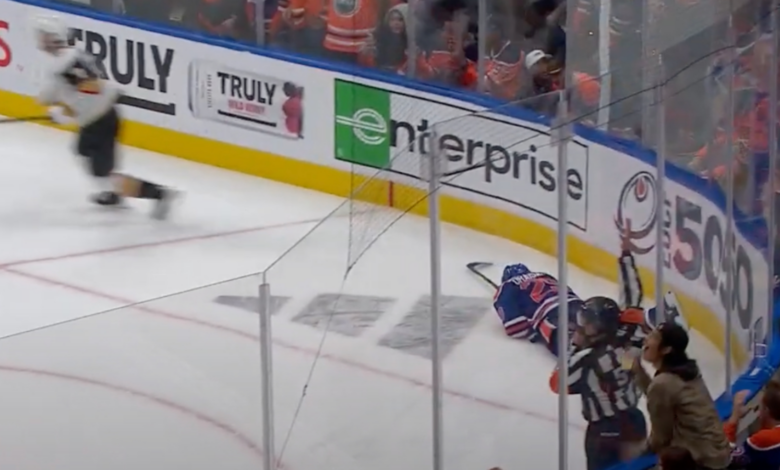 In case you missed it last night, the Edmonton Oilers defeated the Vegas Golden Knights with a convincing 4-1 victory to even the second round Stanley Cup Playoff series.
However, things started to go a little awry in the closing seconds of the game.
To end the game, Vegas defenseman Alex Pietrangelo slashed Oilers star Leon Draisaitl viciously, setting off a small brawl. Connor McDavid of the Edmonton Oilers confronts Pietrangelo after he enters full-on lumberjack mode. All hell breaks loose at that point.
Check it out:
Alex Pietrangelo gives Leon Draisaitl a two-handed slash after an empty net opportunity. pic.twitter.com/wziPdleLDx

— Sportsnet (@Sportsnet) May 11, 2023
Pietrangelo will have a hearing to go through potential additional punishment for the dirty play, NHL Player Safety has said.
Vegas' Alex Pietrangelo will have a hearing today for Slashing against Edmonton's Leon Draisaitl.

— NHL Player Safety (@NHLPlayerSafety) May 11, 2023
"It's as 'intent to injure' as you can get. You'd like to see that suspended. It's not a hockey play," said McDavid on the slash after the game. And you know what? I'm inclined to agree with him.
I'm all for physical hockey, especially in the playoffs, but a two-handed slash on a star player in the last moments of the game is some genuine chicken shit. Pietrangelo ought to be required to miss a game because that isn't a hockey play.