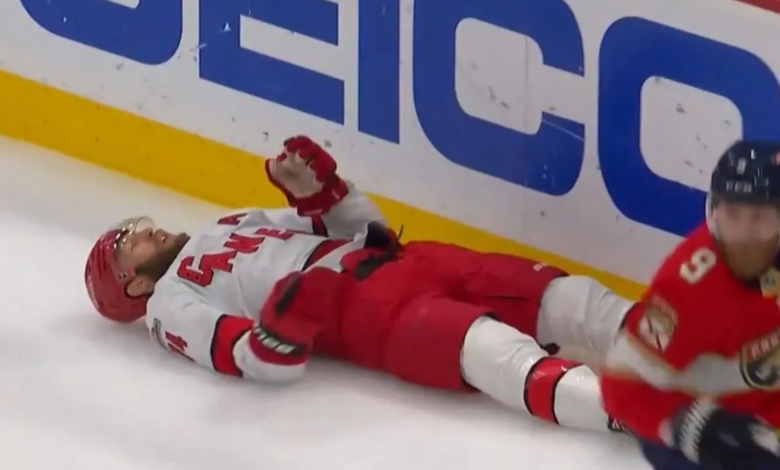 Wednesday night's game 4 of the Eastern Conference Final pitted the Florida Panthers against the Carolina Hurricanes. Florida would go on to win 4-3 to win the series and advance to the Stanley Cup Final, but it wasn't without drama, particularly when Sam Bennett hit Jaccob Slavin in the first period.
Another controversy is centered around PK Subban. As a result of his disrespectful remarks regarding the risky hit that took Jaccob Slavin to the hospital, the former player knows how to alienate followers.
The fans did not appreciate the ESPN analyst's choice of caption when he posted a video of the hit on Twitter:
Playoff hockey💨💨💨🚚 pic.twitter.com/HoQg8n1KJG

— P.K. Subban (@PKSubban1) May 25, 2023
It's not surprising that Subban enjoys big hits when they happen because he used to play a hard-hitting style of hockey. The way Subban handled the popular video and captions he uploaded, meanwhile, drew harsh criticism from the audience.
The backlash Subban received as a result of praising this kind of performance and its aftermath was justified. You should never rejoice when a player is hurt, whether it was caused by a clean hit or not.
This demonstrates that despite being retired, he still lacks comprehension of the consequences of his comments.
Many fans were understandably upset by his remarks. The Carolina Hurricanes and others responded to him.
Playoff hockey💨💨💨🚚 pic.twitter.com/HoQg8n1KJG

— P.K. Subban (@PKSubban1) May 25, 2023
After retiring last year, Subban hasn't changed, and it's obvious. This behavior is abhorrent.
Playoff hockey💨💨💨🚚 pic.twitter.com/HoQg8n1KJG

— P.K. Subban (@PKSubban1) May 25, 2023