Featured
Police Called to Senior League Hockey Game After Wild Brawl Erupts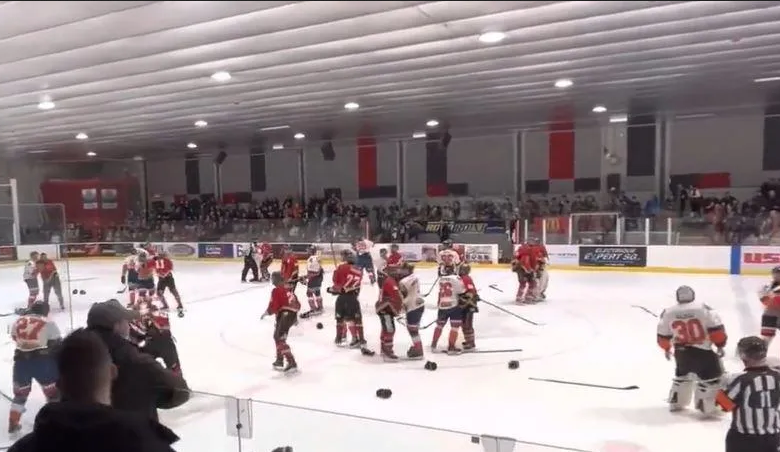 Senior hockey is often more intense than other sports, with frequent altercations.
Many senior hockey players want to make a name for themselves, and fighting is one way to do so.
This occasionally leads to bench-clearing brawls.
A recent example is the chaotic scene at a Quebec Senior League game, in which it appeared that everyone on and off the bench was involved in a massive brawl.
You can see the chaos for yourself here:
Vidéo – Bagarre générale en plein match de hockey de la ligue @_LHSAAAQ à Plessisville. La @sureteduquebec a été appelée. Au même endroit il y a deux semaines, il y a eu une violente bagarre dans les gradins durant un match junior AA. @tvanouvelles pic.twitter.com/5Xl9hiMyKs

— Kevin Crane-Desmarais (@KCrane23) March 26, 2023
Video – A general fight erupts during a league hockey match in Plessisville, part of the @_LHSAAAQ. The @sureteduquebec were called to intervene. Just two weeks prior, a violent altercation occurred in the stands at a junior AA game at the same location. @tvanouvelles
Initially, officials try to prevent multiple fights from breaking out. However, as the players begin to confront each other from all sides, the situation devolves into chaos.
As the chaos grows, players from all over the place join in. As mentioned in the tweet, the gravity of the situation prompted a call to the police.
While senior hockey is known for occasionally spiraling out of control, this appears to be an extreme case.
The intensity and scope of the brawl show how heated senior hockey games can get. It is critical for players, coaches, and officials to prioritize safety and sportsmanship in order to avoid similar incidents in the future.