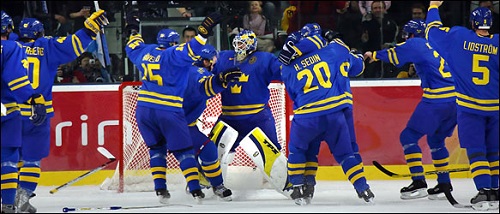 When Washington Capitals Owner Ted Leonsis said he'd let Alexander Ovechkin play in the Olympics earlier this year to represent his home country, regardless of what the NHL said, it was "official" then. There's no way an owner would make that statement if there was a chance he would publicly dissent from the league's decision if there was a strong chance the players were going to stay put. Well, it became officially official this past Friday that NHL players would be allowed to head to Sochi to represent their respective countries. In 2006, the New York Rangers sent nine Olympians to Torino. In 2010, the Blueshirts sent five players to Vancouver. For the 2014 games, there's a chance the Rangers could have up to eight players skating at the Bolshoy Ice Dome or the Shayba Arena. Let's take a look by country: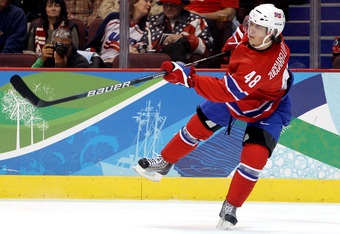 Norway
–Mats Zuccarello – The player Rangers fans affectionately refer to as "The Hobbit" was an unknown player on this continent heading in to the 2010 Games. People in Europe were well-aware of the Swedish Elite League's leading scorer from 2009. His speed and ability with the puck drew the attention of Rangers GM Glen Sather, and he became a part of the Rangers organization shortly after Norway was eliminated. In four Olympic games, the Oslo -born winger had a goal and three assists. He is sure to be a part of their roster again in Group B (along with Finland, Austria, and…)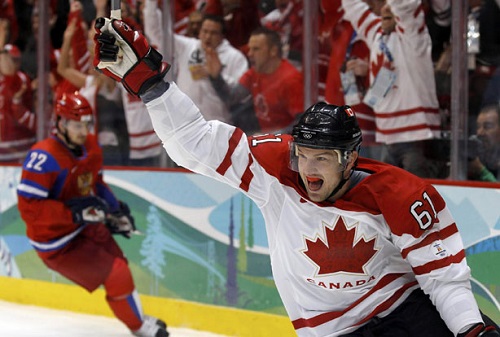 Canada
–Rick Nash – The Brampton, Ontario native didn't have much success in his career heading in to the last Olympics (one playoff appearance, where Columbus was swept by Detroit), but he went back to Ohio with a gold medal in his possession after the 2010 games. He flanked Sidney Crosby for some of the tournament, while skating on a line with Mike Richards and Jonathan Toews at other times. In seven games, he had two goals and three assists en route to Canada's 11th gold medal.
–Dan Girardi – The Welland, Ontario born-defneseman is far from a lock to make Team Canada's blueline. With names like Drew Doughty, PK Subban, Shea Weber, and Duncan Keith in the mix, cracking the Top 7 of Canadian defensemen won't be easy. He would provide a physical presence if he made it to the Olympics for the first time in his career.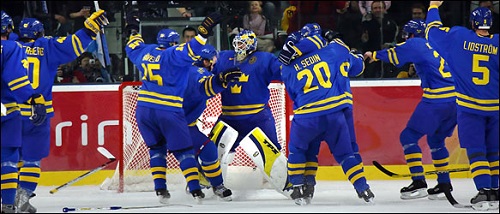 Sweden
–Henrik Lundqvist – There's no doubt that Lundqvist's gold medal performance in the 2006 games (5-1 / 2.33 GAA) played a big part in him eventually being honored in Sweden by having his own stamp this past March. Sweden's 2010 performance dropped significantly from their 2006 performance, losing to Slovakia in the Quarterfinal Round (Lundqvist posted a 2-3 record with a 1.34 GAA). But having the best goalie to ever come out of Are, Sweden between the pipes makes them a strong contender again in 2014.
–Carl Hagelin – The Sodertalje native is a long shot to make the roster. But his speed and fore-checking give him a chance to take one of the 3rd or 4th line spots occupied by Sami Pahlsson or Fredrik Modin from the 2010 roster. His only international experience for Team Sweden came from being a part of the 2008 World Junior Championship squad. If he were to make the team, he'd be competing against Switzerland, Latvia, and the Czech Republic in Group C.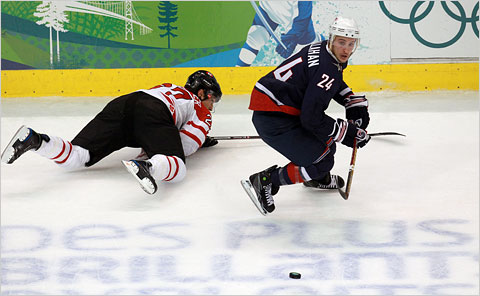 USA
–Ryan Callahan – While Callahan only posted one assist in six games in Vancouver during the last Winter Olympics, he contributed significantly in other areas of the game. The 28 year-old from Rochester. New York has only improved since then. Being able to roll separate lines with guys like Callahan and Kings winger Dustin Brown make Team USA a tough team to play against in Group A (Russia, Slovakia and Slovenia being the other members). There's an outside chance he could have a 'C' or an 'A' on his sweater this time around.
–Ryan McDonagh – You can write in pen that McDonagh will be donning a Team USA sweater heading in to Sochi. Every two years, McDonagh has made a jump representing the United States on an international level. In 2007, he was a part of the Under-18 team. In 2009, he was a part of the World Junior team. In 2011, he represented team USA in the World Championships. His NHL performance the past two seasons (2012 – seven goals & 25 assists in 82 games; 2013 – four goals & 15 assists in 47 games), combined with some vacant blueline spots from the 2010 roster, make him a lock for Team USA next February.
-Derek Stepan- The last time there was Winter Olympics hockey, Stepan was finishing up his last season as a Wisconsin Badger. Since then he's had three seasons of over forty points with the Rangers. This past season projected to a 31 goal / 44 assist campaign over a full 82 games. He's played his way in to the top-center spot on the Rangers, and there's no reason he shouldn't be one of the guys up the middle for Team USA in Russia.