No, that headline isn't a mistake. In a 3-2 victory over the New York Islanders on Tuesday night at Nassau Coliseum, the Rangers power play went two for four, including the first goal of the game and the game-tying goal in the third period.
The Rangers first goal came at the 12:30 mark of the opening frame. Chris Kreider scored his first goal of the season (and first career power play goal) on a rebound from a Brad Richards shot from the point. In the second period, the Blueshirts outshot the Isles 15-7, but Long Island's team took a 2-1 lead courtesy of goals from Cal Clutterbuck and Peter Regin. In the third period, Defenseman Ryan McDonagh also scored his first career power play goal (second goal of the season) at 4:59 to tie the game at two. With 6:14 remaining in the game, Benoit Pouliot tallied his second goal of the season to give the Rangers the lead for good.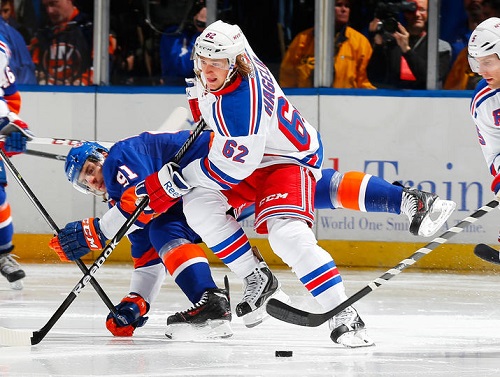 The Blueshirts' have had a see-saw week. After losing a tough game in Philadelphia 2-1, the Rangers went in to Hockeytown and beat the Red Wings in overtime 3-2. On Monday night, they were shutout (Habs G Peter Budaj earned it with 27 saves)2-0 by Montreal in their home-opener at the newly-transformed Madison Square Garden. Rallying for a late win against a rival can certainly be something to build momentum off of. One thing that provided them momentum was the return of Carl Hagelin. Besides having an assist in his 2013-14 debut, Hagelin provided the spark that he usually provides on the ice. He's a hard-forechecker, moves well with the puck, and gets things going in transition. They're still missing Ryan Callahan and Rick Nash, who are easily two of the Blueshirts best players, but Hagelin gives them something they've been missing during the first month of the season.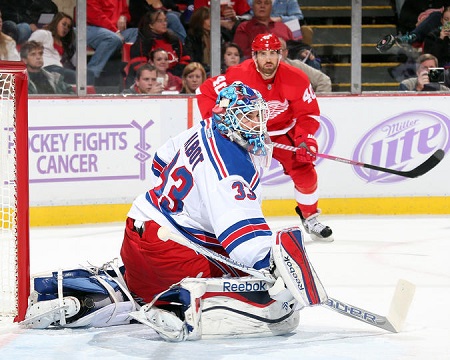 Something else that came from Tuesday night's win over the Islanders was the play of rookie goalie Cam Talbot. After a hard-fought loss in his NHL debut in Philadelphia, the 6′ 3″ netminder has won two in a row. The Caledonia, Ontario native has yet to allow more than two goals in a game, and it looks like he will fill the void left by Martin Biron. Henrik Lundqvist likes to play a lot of games, but Head Coach Alain Vigneault should seriously consider giving Talbot more of a workload. It would keep Lundqvist fresh if Talbot saw action once a week (or once every four to five games).
The Rangers have four straight home games coming up, starting with the Buffalo Sabres on Halloween and then the Carolina Hurricanes on Saturday night. Both are winnable games, and a serious chance to get some momentum in a quest to get back to .500.