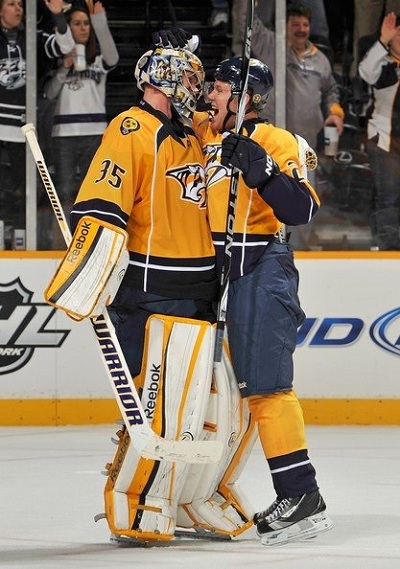 The 2012-2013 lockout is starting to weigh heavy on fans and players, alike. The NHL has already cancelled all pre-season games, individual teams are offering compensation packages to Season Ticket Holders, and now players are signing lockout deals and heading overseas to play.
As of this morning, Pekka Rinne, Nashville's starting goaltender (and one of their top players) is heading to the KHL. He signed a lockout deal with Dinamo Minsk in Belarus. With Rinne being from Finland, signing on in the KHL doesn't make a lot of sense. Most players go back to their home countries, if possible, and play in a time like this. The most probable reason is the fact that when an NHL player signs overseas during a lockout, that league is required to have insurance for the player set aside. The KHL has this available, while Finland's Elite League does not.
Patric Hornqvist, one of, if not the, top forward for the Predators, has opted to head back to his home country of Sweden to play. He has also inked a lockout deal and will be playing with Djurgården of Sweden's Hockey-Allsvenskan League. Of course this makes sense, with Hornqvist being able to go back to his home country. There's also the added bonus of a few of the Predators' top prospects currently playing here, including the Preds #1 prospect, Pontus Aberg.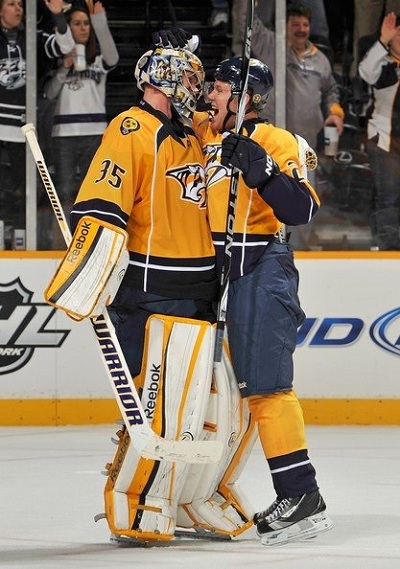 This is sad to see in many ways, as both of these players are highly ranked in the Nashville system. They have both been slow about jumping ship once the lockout started and stayed in Nashville to train with teammates. Reports are that Hornqvist landed in Stockholm, Sweden, this morning. Rinne, however, was still in Franklin, Tennessee, training with fellow teammates at A-Game Sportsplex.
So, it leaves one to wonder: Just how long until other players begin to leave Nashville behind and head overseas? Who will they sign with? And just how long will this lockout last?