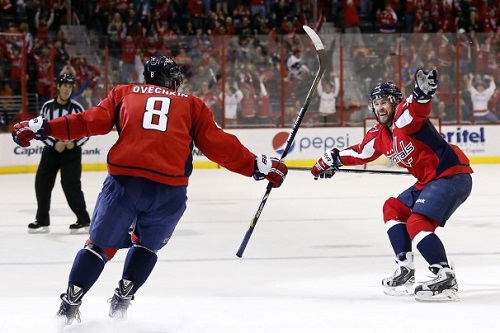 The routine of rallying back late in the final period of play is slowly becoming the Washington Capitals' trademark, nicknamed the "Comeback Caps" and "Cardiac Caps" by their ever loyal fans. Last night marked the second time in less than a week that the Caps have escaped a three-goal deficit to win in a heart-pounding shootout at home, as the Caps came back to beat the Philadelphia Flyers with an unbelievable final score of 5-4.
Forget about the shootout loss to the Florida Panthers that broke all DC sports fans' hearts Friday night, these crazy comeback triumphs are something to talk about. The first of these significant comebacks came against the Tampa Bay Lightning last Tuesday night and caught attention as Ovechkin put four shots on goal, including one with 33 seconds left in regulation to tie the game at 5 and send the game to overtime, and eventually a shootout, where they ended up winning in front of an electrifying home crowd.
Not only did the Caps dig themselves out of a three-goal hole once, but they did it twice, and this time it was against a division rival with angry fans itching for sweet revenge on a team that blew their guys out of the water 7-0 in the previous match up on November 7. This second Caps comeback occurred Sunday evening when the Caps skated away with a wild win decided by another shootout, leaving the Verizon Center stunned once again. The entire game was basically dominated by the offense of the Flyers until just a few minutes after the halfway mark of the third period, when goals came from Mike Green, Dmitry Orlov and Alex Ovechkin to even the score at 4; all in just 8 minutes and 40 seconds!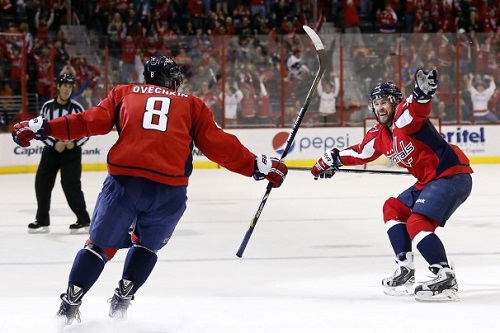 "It was unbelievable," Philip Grubauer says. "Thanks to the guys. It was a good win, a good comeback. We have a great offense. We can score, so every time you need a goal, it seems like we can put the puck in the net, which is good for us."
Washington has won six of its last eight games, picking up at least one point in seven of the eight games.
As for Ovechkin, other than in the shootout, he has been continuously producing in clutch situations to keep his team alive. Ovechkin has 5 goals in the last 3 games. Yes, the Caps have been struggling to find their defensive niche early on in the game, which leads to the stressful game of catch up, and shuffling of pairings, but nonetheless, they seem to realize what they are doing wrong, and pull it together before regulation comes to a close. There is a sort of indescribable magic that illuminates the Verizon Center each and every time the horn erupts after a Capitals goal. It's a hope that's never lost, because the fans know the true capability of these men. It's only just the beginning for the Caps.