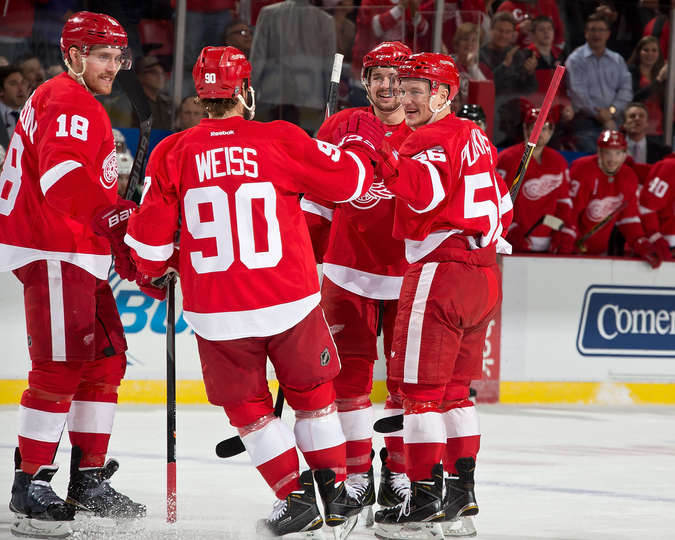 The Red Wings extended their win streak to five games, the best current streak in the NHL. Their 8-2-0 record in their last ten games is also the best at the moment (tied with the New York Rangers). More importantly, they have managed to climb to 63 points in the Atlantic Division, good for second place, one point behind the Tampa Bay Lightning with a game-in-hand. Besides the Lightning, only two teams in the league have more points than the Wings, that being the Rinne-less Predators and the Anaheim Ducks.
Tuesday night's contest against the Minnesota Wild was a memorable night for one of Detroit's top prospects, Teemu Pulkkinen. He scored the game's first goal, his first career marker in the NHL. Playing with the AHL's Grand Rapids Griffins, the 23-year old Finnish forward has led the team in both goals (20) and points (39). He would likely be the leading scorer in the league had he played as many games as the three players above him on the list. Additionally, while the NHL nears its All-Star break, Pulkkinen will also be taking part in the AHL's All-Star Classic.
"Weisser got the puck to the boards, and he skated in the zone, and I just tried to find open spot in the middle.," said Pulkkinen. "He made a really good pass for me and I just tried to one-touch it and it hit the net and I got lucky and it went in."
His blast set the tone for the game. That tone would be fast paced.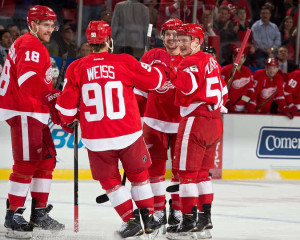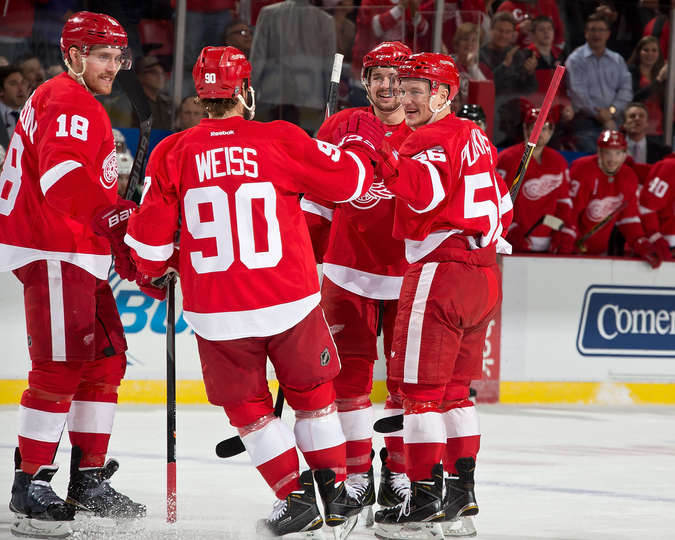 Not long after his goal, he would be called for goalie interference, of which the Wild would score only seconds into the ensuing power play. Minnesota's captain Mikko Koivu tied the game with his seventh of the season.
Devan Dubnyk, playing in his fourth game following his trade from Arizona to Minnesota, had not yet had a real test, having faced Buffalo, Arizona, and Columbus in his first three games.
Gustav Nyquist scored on the Red Wings' first power play early in the second period, while defenseman Xavier Ouellet would score his second goal of the season (and second of his career) fewer than four minutes later as he jumped on a loose puck and blasted a shot past Dubnyk. The latter goal would chase the Wild netminder. His replacement was Darcy Kuemper, playing in his first game since January 6th after he was activated from injured reserve a day earlier.
The Detroit offense would be unable to solve Kuemper, as he proceeded to stop all 14 shots he faced.
Petr Mrazek, who stopped 21 of 22 shots in the first two periods, would be hung out to dry in the third, due to a few defensive lapses and one untimely penalty.
The first of those penalties belonged to Ericsson, and resulted in a goal from Zach Parise. Thomas Vanek cut the Wings' lead to one exactly four minutes later.
Then, while attempting a breakout pass behind Mrazek, Ericsson inadvertently handed the puck over to Parise, who was waiting hungrily to intercept it. Shortly after, the puck was in the back of the net, and the game was tied at four following the three unanswered Wild goals.
"Just settle down," said Nyquist when asked what the message on the bench was following the tying goal. "I think that was the message all the way throughout. Once they made it 4-2, just stick to our system, we didn't do a good enough job of that, and they managed to tie it up. Found a way somehow to get the win anyways. So it feels good."
After overtime failed to find a winner, the shootout, of which Detroit was 1-7 in prior to Tuesday night, commenced.
Fortunately, Mrazek is rather good at shootouts.
Minnesota, naturally, sent their two best shootout artists, Parise and Koivu, both of whom have scored 38 goals since the skills competition's inception in 2005. They were one-two in shootout scoring.
Pavel Datsyuk, with 37 career shootout goals, would join the duo with his 38th as Detroit took a 1-0 lead in Round 1 on one of his signature forehand-backhand moves.
When Koivu was foiled by Mrazek, Nyquist was able to finish off the win with a slick five-hole slide in the game that almost got away. "Just tried to get the goalie to move sideways and open up the five-hole a little bit, and it was nice to see it go in," said Nyquist.
It was Mrazek's second shootout win of the season, improving his record to 9-3-1 on the year.
"Petr was great," said Pulkkinen. "I think he knew what the guys try to do, so that was a good pre-scout from him."
"Great to see obviously two big stops, [he] set us up real well, and Pavel scored too," said Nyquist. "(Laughs) it hasn't been the case too many times in the shootout this year that we've scored two goals in a row, so that was nice."
"Every win you get in a shootout, it's a nice bonus point there."
Detroit was outshot 38-24, making this their fourth straight victory after being outshot by their opponent.
"They're a good team," said Nyquist. "They keep five guys inside. They block a lot of shots. They're good at staying above on you, staying tight on you, and not giving you much room, so they're a good team, and I thought they played a good game tonight. Like you said, we didn't shoot the puck enough and we didn't get it through enough. Sometimes that's the case, they did a good job, and we got to find a way to be better."
Detroit saw 23 shot attempts either miss the net or blocked.
The All-Star break is upon us, and is a six-day break for the Wings, as they don't play again until next Tuesday when they travel to Florida to face the Panthers.
Follow me on Twitter @KevinSporkaHOHM
Love Reading About Hockey?

Subscribe to keep up-to-date with the latest and most interesting hockey news!
| | |
| --- | --- |
| | We hate spam just as much as you |