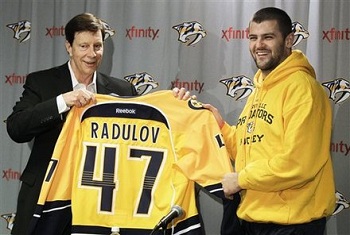 David Polie and the Nashville Predators waited close to four years for this moment, but on March 23, Alex Radulov scored again in the NHL. When Radulov bolted the Preds in the summer of 2008 to join Salavat Yuleav Ufa of the KHL, Nashville made a smart move. Instead of terminating the one year Radulov had left on his contract with Nashville, the team instead decided to suspend him and the deal hoping one day he would return.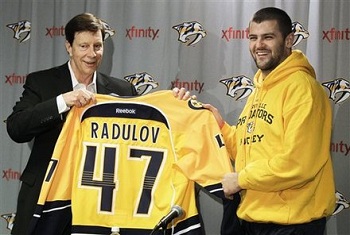 At the time he left, Radulov had already proven himself to be a star in the CHL but was still struggling to break out in the NHL. When he scored 152 points during the 2005-06 season for the Quebec Ramparts, scouts began to take notice and he was drafted 15th overall in 2004 by Nashville. It would take him a couple of years to adjust to the high tempo level of the NHL but in 2008 he recorded 26 goals and 58 points, decent totals for a 22 year old.
It was then he decided to leave for Russia and the newly formed KHL. That is where he became a star, breaking or setting all of the league's records including most career points (254) and most career assists (163). People in Canada and in North America began to refer to him as the best player not in the NHL, praise that Nashville hopped would help get him to return.
It took close to four years, but Radulov did return to fulfill the reminder of his contract with the Predators. With a salary of just under $1 million, the Predators are getting the services of a huge offensive force for a very low price. They already had shown the world they wanted to compete by adding Hal Gill, Andrei Kostisyn and Paul Gaustad at the trade deadline but Radulov could be the final piece. Radulov has the potential to dominate the NHL by scoring tons of points and making players around him better. Nashville got lucky by holding out on Radulov and if they play their cards (and their games right) this talented team could make a run to the Cup. And with players threatening to leave this summer, the team could be the closest it ever will be to becoming champions.