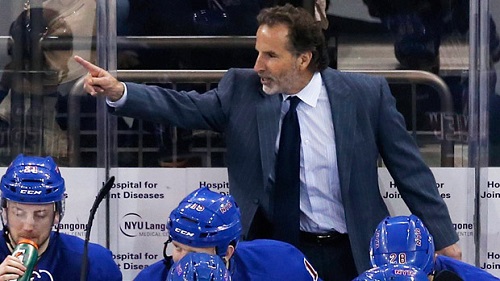 In a move that will make some of the Madison Square Garden Faithful happy (and others scratching their heads); the New York Rangers have relieved Head Coach John Tortorella of his coaching duties. After leading the Blueshirts within two wins of the Stanley Cup Finals in 2011-12, the Rangers finished 6th in the conference and lost in the Conference Semifinals to the Boston Bruins in five games this past season. The all-time leader in wins among American-born coaches (410), Tortorella had one year remaining on his contract.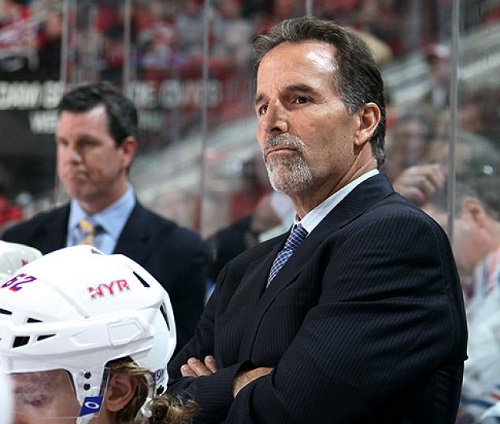 There are many Rangers fans that are happy with this move. I can see why there would be joy in the camp of Torts-haters. Coaches with rough personalities (like Tortorella) can grind on players after a while. The coach gets tuned out, the message doesn't get through, and now you have a disinterested team playing for a coach whose message is falling on deaf ears. When Tortorella originally took over for Tom Renney, the Rangers didn't have the talent on the roster that they now have. So playing a defensive-minded system made sense (even though he came in to the job, beating his chest with the "safe is death" philosophy that Ranger fans never actually saw on the ice) back then. Over the past two seasons, the Rangers made roster additions that upgraded their talent level, so playing a shot-blocking/defensive laden system wasn't as necessary. Tortorella never changed his ways. He's also guilty of tinkering with lines too much and too quickly.
There is also a faction of Ranger fans that don't like the move at all. Like I said earlier, the Rangers were within two wins of playing for last year's Stanley Cup. While the Rangers underachieved compared to last year's finish, there are logical reasons for this. All 30 NHL teams had to deal with a shortened/condensed season, but look at the remaining teams in the Stanley Cup Playoffs (this is being done pre-Game 7 of Hawks-Wings). The Pittsburgh Penguins, Bruins, Chicago Blackhawks and Los Angeles Kings all came in to the season with essentially the same rosters they had last season. The Detroit Red Wings had a significant roster changes, but they also happen to have arguably the best coach in the league in Mike Babcock. The Rangers roster made significant changes among their forwards coming in to the season. It's tough to build chemistry when you're playing three games in four nights and can't practice your team too much due to a condensed schedule. If you look at the Rangers historically, only Lester Patrick (the franchise's first-ever head coach) and Emile Francis have more wins behind the Rangers bench than Tortorella.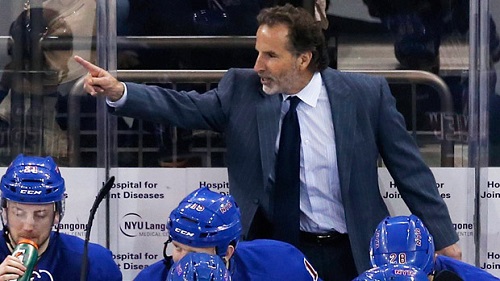 If it was up to me, I would have kept Tortorella going in to next season. He would have had a full camp with the 2013-14 roster, and would have been given ample time to tweak his coaching style to his squad. If the Rangers weren't in 2nd or 3rd place (at the least) in the newly aligned conferences by Christmas time, then you put a lump of coal in his proverbial stocking.
Potential new candidates for the Rangers vacancy include former Sabres coach Lindy Ruff, former Lightning coach Guy Boucher, and former Canucks coach Alain Vigneault. Ruff and Boucher have similar coaching styles and personalities to Tortorella, so bringing in one of those guys would be replacing 6 of one with half a dozen of another. I could see Vigneault doing well with a fresh start after getting out of the Vancouver hockey fish bowl. NYC is a bigger city than Vancouver, but the Rangers are no better than 6th in terms of media/fan attention after the Yankees, Mets, Jets, Giants and Knicks (in no particular order). For the fans that are throwing Mark Messier and Wayne Gretzky's name out there, save your breath. Gretzky has already said he will likely never coach again (and unlike Kiss with their farewell tours, and Brett Favre with his NFL playing career for a few seasons, Gretzky means it). As great of a leader, captain, and icon that Mark Messier was and is in this town, he has zero NHL coaching experience. The Rangers are ready to win in the next few seasons, and they don't have time for someone to learn on the job.