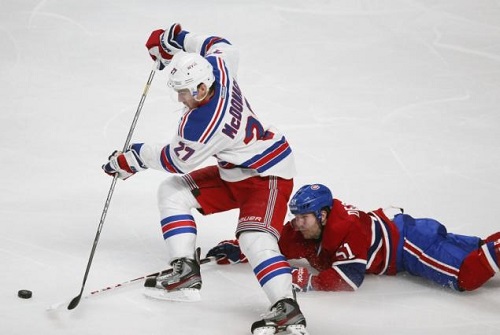 Rangers Unrestricted Free Agents:
Ryane Clowe ($3.62 million)
Roman Hamrlik ($3.5 million)
Steve Eminger ($700,000)
Matt Gilroy ($650,000)
Restricted Free Agents:
Derek Stepan ($875,000 cap hit)
Carl Hagelin ($875,000 cap hit)
Mats Zuccarello ($1.75 million cap hit)
Ryan McDonagh ($1.3 million cap hit)
Michael Sauer ($846,667 cap hit)
*$14.1 million in cap space heading in to 2013-14
Let's start with the UFA's. I can't see Matt Gilroy or Roman Hamrlik coming back under any circumstances. Ryane Clowe could be brought back (three goals & five assists in twelve regular season games with the Rangers, one assist in two playoff games), but it would have to be at a discount from his previous contract (11 assists in 28 games with San Jose before coming to New York). Steve Eminger would be a good, cheap depth signing. But if the Rangers retain McDonagh, Eminger is a 7th defenseman at best. With prospect Dylan McIlrath close to being NHL ready, Eminger may not be worth the shred of cap space with the cap ceiling going down. Injuries along the Rangers blueline gave him an opportunity to play in 35 regular season games and all but one playoff game in 2013. He proved himself to be a steady, 3rd pairing rearguard, but he'd likely want to go to a team where he'd be higher on the depth chart.
Unfortunately, this is the end of the road for Michael Sauer. He suffered a concussion on December 5th, 2011 against Toronto, and has yet to return. He and McDonagh made quite the rookie d-pairing, and it's a shame to see his talent not reach its full potential. As for Mats Zuccarello, his agent (Eric Ryman) has confirmed that Zuccarello wants to stay with the Rangers, and they're working on a two to three year deal.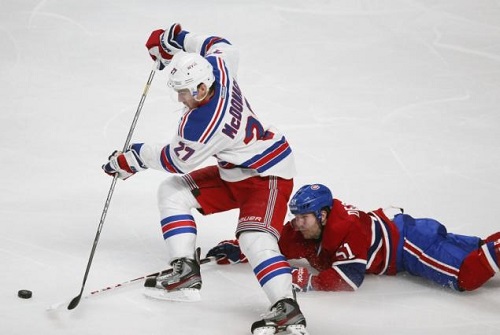 Ryan McDonagh – Defenseman: Regular Season – 4G, 15A, +13 / Playoffs – 1G, 3A, +1
-As the seasons have gone on, McDonagh has continued to make the Scott Gomez trade to acquire him look more and more lopsided. McDonagh seamlessly slid in to the top defensive pairing when Marc Staal went down with a concussion in the 2011-12 season, and hasn't looked back. His defensive game is rock steady, and his 2013 stats project to seven goals and 25 assists over a full season. Compared to contracts of other defensemen, he should receive a contract in the $3.5-$4 million range. The Rangers need to be careful with this, since Dan Girardi is an unrestricted free agent next season.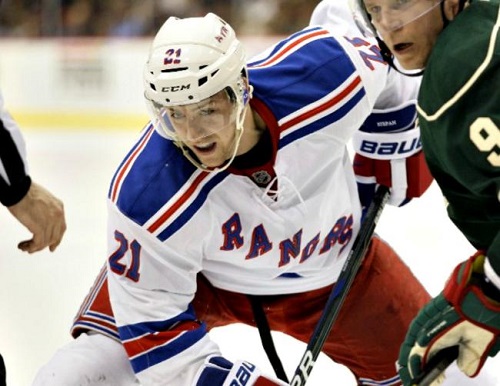 Derek Stepan – Center: Regular Season – 18G, 26A, +26 / Playoffs – 4G, 1A, +4
-Pardon the pun, but he took a big step forward last season. The struggles of Brad Richards opened the door for the former Wisconsin Badger to be the top center, and Stepan cemented himself as the Blueshirts top center. His point production has increased in each of his three years in the league. If you project the shortened season stats over a full season, he would have tallied 31 goals and 44 assists. I'd expect him to get a contract in the $4 million per year range.
Carl Hagelin – Left Wing: Regular Season – 10G, 14A, +10 / Playoffs – 3G, 3A, +6
-Hagelin provides a spark on the forecheck that no one else on the Rangers does. He's quick and works hard behind the opposition's net. In his two years that he's been with the Rangers full-time, he's averaged a point in every other game. He found a permanent home among New York's top-6 forwards, and I'd expect him to get a raise in the $2.5-$3.5 million per year range.
This may be overstating the obvious, but the Rangers need to be mindful how they spend this off-season. Striking a balance between making their top three RFA's happy and not overspending is crucial because of next year's free agents. Henrik Lundqvist (UFA), Ryan Callahan (UFA), Girardi (UFA), Derick Brassard (RFA), Chris Kreider (RFA), Michael Del Zotto (RFA) and John Moore (RFA) are the players of the 2014 class that Glen Sather will need to make decisions on.