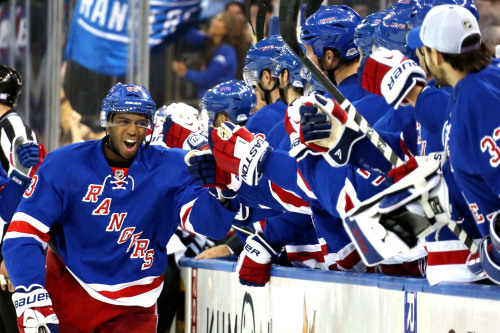 November hasn't been a great month for the New York Rangers. In nine games, they've posted a 2-3-4 record, and still have six games to go (three against Philadelphia, home versus Montreal, and games at Buffalo and Tampa Bay – but not in that order). With Ryan McDonagh beginning to skate in practice this week, the Blueshirts roster is very close to becoming whole again. Getting their captain back will restore order on the blueline, but it is important for them to leave the forward combinations the way they are for now, and that means playing Anthony Duclair almost every game.
Beating the "Don't scratch Duclair from the lineup" drum may sound like a leftover thought from his preseason performance, considering he's only posted one goal and five assists in thirteen games (he was a healthy scratch in four games this season). But guys like Duclair benefit from being in the line-up and seeing minutes every night. Guys with his talent only get cold for long stretches by sitting up in the press box. A year of his entry level contract has already been burned, so being able to keep him around under his entry level deal for an additional year is already out the window.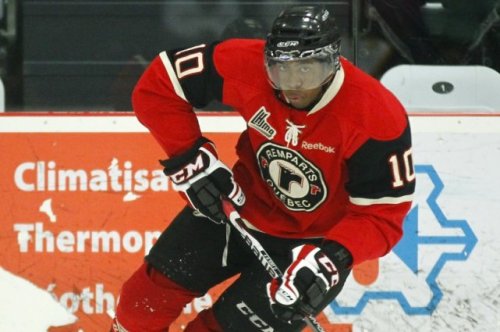 Giving Duclair a chance to play every game for an extended period (he's been scratched for two games twice, each stretch lasting about a week) will allow him to grow and mature. When I say he should play every night, I'm not saying that he should be among the top six forwards. The Rangers are set in their top six for now. Currently, Duclair is on the Rangers third line, with fellow rookie Kevin Hayes centering, and Carl Hagelin on the left wing. Hagelin is a responsible player in all three zones, so that will help compensate for any rookie mistakes. When the nineteen year old said earlier in the week that he had nothing left to prove in juniors, it was with the right attitude. It wasn't a cocky statement, but more of a "I'll learn to be a pro by being around pros everyday" mentality.
Keeping Duclair around gives the Rangers a true "energy" line of young guys that hustle and play hard, but it also makes the fourth line better and more balanced. Dominic Moore and Tanner Glass are staples in the shutdown role, and adding Lee Stempniak to that duo gives that line another defensively responsible player that can provide some offense, too. Duclair can also be thrown in to the top six mix if someone from that group goes cold.
Which set of forwards would you rather see night in and night out:
Set 1:
St. Louis – Brassard – Nash
Kreider – Stepan – Zuccarello
Hagelin – Hayes – Duclair
Glass – Moore – Stempniak
Set 2:
St. Louis – Brassard – Nash
Kreider – Stepan – Zuccarello
Hagelin – Hayes – Stempniak
Glass – Moore – Jesper Fast/Ryan Malone/Duclair or someone else from the Hartford Wolf Pack