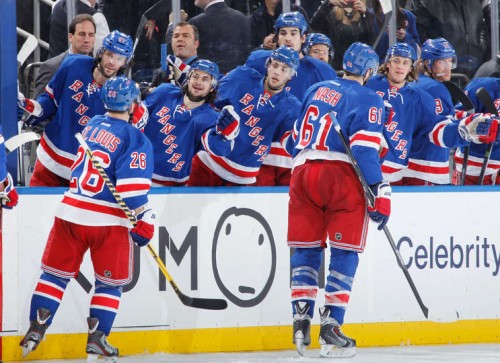 Back on February 9th, I wrote an article stating that the Rangers were right where they should have been heading in to the Olympic break. While the season had gotten off to a rough start for them, they started to recover around Christmas, and established themselves as the second best team in the Metropolitan Division behind Pittsburgh. Not much has changed since then. With the NHL's regular season coming to a conclusion on Sunday night, the New York Rangers finished in second place in the Metro, and they'll have home ice in the first round of the playoffs for only the second time since the 2004-05 lockout.
The Blueshirts posted a 13-7-2 (one game remaining) record since the NHL resumed play after the Olympics. In that stretch, we've seen Henrik Lundqvist move in to first place on the franchise wins and shutout list, the continued strong play of the Mats Zuccarello-Derick Brassard-Benoit Pouliot line, and the trade of Ryan Callahan for Martin St. Louis. While the acquisition of St. Louis hasn't provided the offensive punch I thought he'd add (one goal, four assists since coming to New York, with three of those assists coming in one game), he's about to get a fresh chance to contribute more during the most important time of the year. In that stretch, we've also seen injuries to Ryan McDonagh (shoulder) and Chris Kreider (left hand). It looks like McDonagh will be back on the blueline for Game 1 of their first round series, but Kreider is still carrying his stick with his right hand in skating sessions.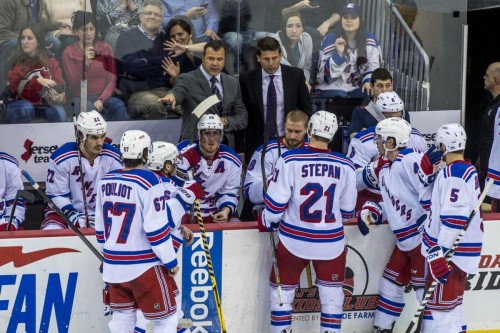 The Rangers first round opponent will either be an old rival (Philadelphia) or a budding rival (Columbus). No matter which of those physical teams the Rangers get, they're built to make a playoff run (on paper). Up front, they can roll three productive lines, and have a fourth line that can make things difficult against the top lines of other teams. In the Rangers' own end, they have one of the deeper bluelines in the league, and Henrik Lundqvist speaks for himself. Having game seven at Madison Square Garden in the opening round is important, but the Rangers have been road warriors, performing better than anyone who stayed in a Holiday Inn Express (25-14-1 with one game remaining in Montreal tonight). The other thing that gives me confidence heading in to the playoffs this year is their bench boss, Alain Vigneault. I'm not saying he's Scotty Bowman or Toe Blake, but the players seem to be a little looser and more comfortable this season. Playoff hockey is a high-stress environment to begin with, and having a calming influence on the bench during this time of the season will be a welcomed change from the previous regime.
Love Reading About Hockey?

Subscribe to keep up-to-date with the latest and most interesting hockey news!
| | |
| --- | --- |
| | We hate spam just as much as you |