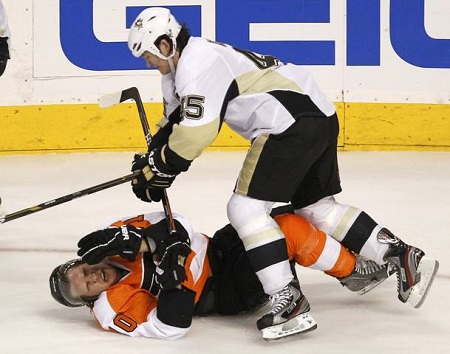 NHL Free Agency in 2012 has been a frenzy across the league. The Wild landed the top two free agents with the Zach Parise and Ryan Suter additions. Vancouver added Jason Garrison, while the Lightning signed Matt Carle to get the next two best defensemen (after Suter) in the 2012 class. Dallas signed aging, but productive wingers Ray Whitney and Jaromir Jagr. But when you look at the Rangers moves of the summer, it's been pretty quiet. Of course, Glen Sather is working with Columbus GM Scott Howson on a deal for Rick Nash (and, if he's smart, also talking to Bob Murray out in Anaheim for Bobby Ryan), which has been the bulk of the Rangers off-season chatter. But the Blueshirts have made some alterations: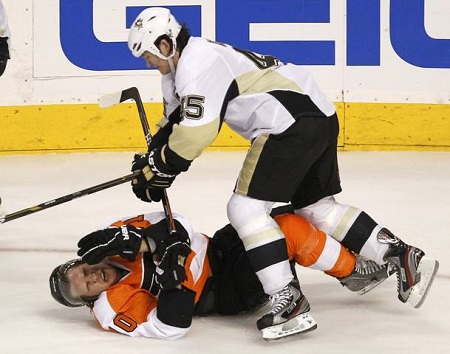 Parting with Prust/Adding Asham
-It's always tough when you have to say good bye to a young, rugged player that was both a fan and locker room favorite. But Montreal needed to get touger, and were willing to pay for it in the form of 4 years/$10 million. The Rangers need to leave as much space as possible for other needs, and Brandon Prust isn't worth $2.5 million per season. Arron Asham is the same player (2 years/$2 million), but a little older and cheaper. He knows the Atlantic Division well, with the Rangers being his 5th stop in the division. He spent parts of 4 seasons in Montreal (ironically) before making all of his Atlantic stops.
Biron & Bickel Are Back
-The Rangers needed a back-up goalie they could trust to play 20 games a season, and Martin Biron is still that guy (2 years/$2.6 million). He didn't play well the back half of this season, but was more than reliable for the season and a half before that. The Rangers aren't sure what Michael Sauer's status is with his concussion, so bringing back Stu Bickel was smart (2 years/$1.5 million). He saw way more bench than playing time in the playoffs, but he played well in the regular season. He's physical, and will be better with a healthy chunk of an NHL season under his belt.
Taylor Pyatt in, Ruslan Fedotenko out
-Fedotenko was a good player for the Rangers considering what they were paying him and what they got out of him. Pyatt is three years younger, they got him cheaper than Fedotenko (RF – 1 year/$1.75 million in Philly, TP – 2 years/$3.1 million), and they give you the same production (Feds had 9G 11A in the regular season, 2G 5A in the playoffs. Pyatt had 9G 10A in the regular season, 4G 2A in the playoffs). A little fresh blood to shake things up can be a good thing.
The Rangers also added center Jeff Halpern, winger Michael Haley, and winger Brandon Segal. Jeff Halpern brings a ton of experience to a young locker room that shades towards the younger side. In 13 seasons he has 146 goals, 212 assists, and is one of the better trigger-men in the league. Haley and Segal will likely be with the Connecticut Whale. Segal has only played 10 NHL games with the Lightning. Haley only has 3 career points in 43 games with the Isles over three seasons, but he can fight. He racked up 151 PIMs in 43 NHL games and has had no less than 125 PIMs in his last three AHL seasons.
The Rangers needed some offense, even before Marian Gaborik got hurt. Now that the Slovakian sniper is out until around December, it becomes more of a glaring need. Despite the post-season he had, it would be asking too much of Chris Kreider to pick up that kind of bulk this early in his career. Another option (besides Nash or Ryan) could be Shane Doan. His style of play would be a good fit under John Tortorella, but Doan wants to stay in Phoenix. He's willing to wait out the ownership situation there as long as needed before making any decisions. If the Blue Jackets asking price doesn't become more reasonable soon, Ranger fans won't be seeing a "61" in Broadway Blue anytime soon.
Love Reading About Hockey?

Subscribe to keep up-to-date with the latest and most interesting hockey news!
| | |
| --- | --- |
| | We hate spam just as much as you |