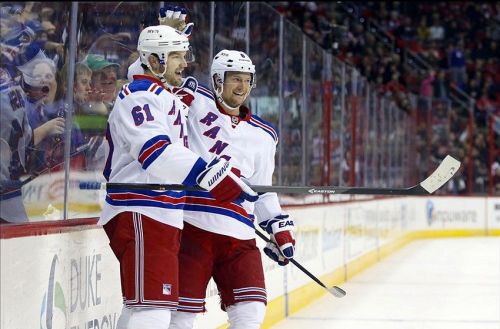 The New York Rangers have certainly put the Garden Faithful in a jolly mood during the holiday season. The Blueshirts are riding a seven game winning streak in to the Christmas break. The run started on December 8th with an overtime win against Pittsburgh. Since then, they swept the Western Canada road trip (Vancouver, Edmonton, Calgary), won both ends of a home-and-home against a bad team (Carolina), and beat a team they'll likely be jockeying with for playoff positioning throughout the season (Washington). The Rangers head out to California for a tough three game swing early in January, but they have a good opportunity to extend the winning streak and rack up some points before they head west. The Rangers open up the post-Christmas schedule with a home game against the struggling Devils before heading to Dallas, Florida, and then a quick pit stop at Madison Square Garden to face the Sabres.
With tomorrow being Christmas day, it's time to see what gifts lie around the tree for some of the Blueshirts
Waking up to find a new bike by the tree
-Rick Nash – 36 points in 32 games (22 goals / 14 assists) gives Nash a ten point cushion over the Rangers second highest point producer this season (Derick Brassard). Six of those points have come on the power play, and three of those goals were scored shorthanded. He's producing consistently, scoring timely goals, and he's still playing hard away from the puck. Rangers fans are so happy with his performance that even the most jaded of Blueshirt boosters let go of the 'I wish he could have produced like this in the playoffs last year' attitude before Halloween.
Honorable Mention: Kevin Klein – When the Rangers acquired Klein from Nashville for Michael Del Zotto (another 'Gun and Ski Mask' trade for a defenseman pulled off by Glen Sather), the overall evaluation of the deal was that the Rangers were sending away an underachieving-but-still-young blueliner for an unflashy-but-reliable defenseman. In 2014-15 so far, Klein has notched seven goals (three of those were game-winners) and four assists. He stepped up and took on the challenge of extra playing time when the Rangers were thin on the blueline during the months of October and November. I wouldn't expect that rate of production to continue throughout the spring, but his strong presence in the defensive zone should continue to be a mainstay.
Oh, socks and underwear…thanks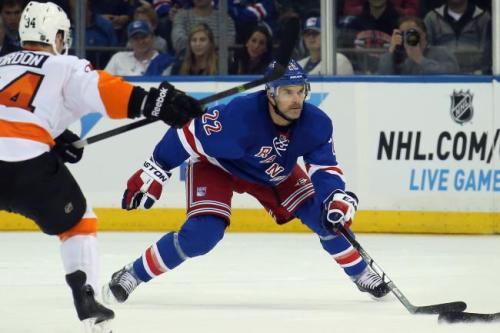 -Dan Boyle – The only thing preventing him from receiving a lump of coal in his stocking is that there is a very noticeable difference in how much better the Rangers power play flows with him in the line-up. Two goals and one assist (all with the man advantage) in sixteen games (he missed sixteen games with a broken hand) isn't a great pace of production for someone who is considered to be more of an offensive-defenseman. No one is expecting him to produce like the Dan Boyle of old, but more consistency in his defensive game would be nice considering he came in to a situation where he didn't have to be "the guy" anymore (except for the PP quarterback role) with the quality of defensemen around him. Knowing he needs to play better isn't news to him, though.
Honorable Mention: Ryan McDonagh – When Santa makes his 'Naughty' and 'Nice' lists, it's not just about how you've behaved once the Christmas decorations have gone up. It's a yearlong evaluation. While McDonagh's play since Thanksgiving is more along the lines of what we're used to from him, the Captain had a rough start to the season before missing most of November with a shoulder injury. It's entirely possible that the newly-anointed captain was putting too much pressure on himself early, but it's good to see him regain his form over the past few weeks. And who doesn't need socks and underwear?
Lump of coal
-Tanner Glass – The fact that he only has one assist on the season can easily be ignored since he was signed to provide depth and toughness for the Rangers. What can't be ignored is that he's a -10, which borders on unacceptable for a guy who is supposed to make a living on a "shutdown line". There is some validity to the "plus/minus being an overrated stat" theory, but if you're playing in more of a defensive role, your +/- should never dip down in to the negative double digits. The fact that the Rangers have had to deal with injuries throughout the season, and recently a case of the mumps going around the locker room, has kept Glass in the line-up most nights. With Jesper Fast becoming a consistent presence on the fourth line, and JT Miller starting to come around, Glass could find himself the odd-man out a lot more in 2015 if he doesn't right the ship.
Not-So-Honorable Mention: John Moore – Moore's role coming in to the season was a defenseman that could play every night on the third pairing, and could also contribute on the second power play unit. The 2014-15 season hasn't gone as planned for Moore, considering he was suspended for a five game stretch at a time when the Rangers desperately needed defensemen, and his play has wavered this year. Off-season acquisition Matt Hunwick played well enough to wrestle away some of Moore's playing time at the sixth defenseman spot. Moore has a bit of a reputation as a "dirty hitter" now, which makes him a bit of a liability when he does play, since refs tend to keep a closer eye on guys like that. He will need to work extra hard in 2015 to be back in the lineup every night.