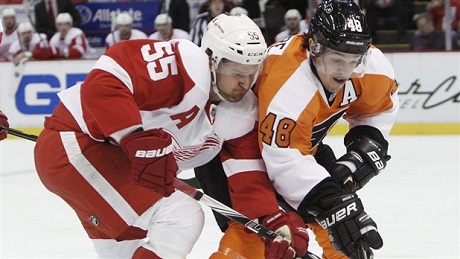 Niklas Kronwall of the Detroit Red Wings unleashes a heavy blow to Philadelphia Flyers' Danny Briere early in the 2nd period of Sunday's game (2/12/12). Kronwall opened up the scoring 7:18 into the game with his 12th goal of the year on the power play. Detroit went on to take the game 4-3 and tie the record of 20 consecutive home wins done only by 2 other teams in the history of NHL.
Check out that hit:
Now it's your turn to RATE THAT HIT (RTH)!
1 for "I'm not impressed" and a 10 for "Wow, that's an absolutely bone crushing hit!" Vote Below:

Loading ...