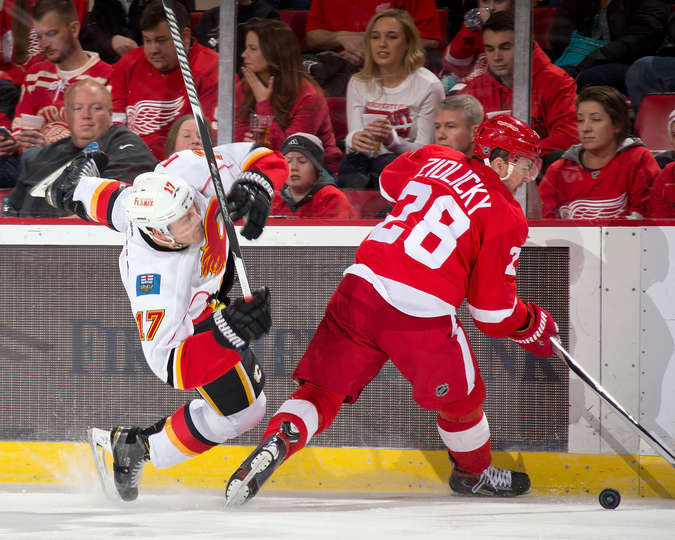 It has only been two games since the Detroit Red Wings acquired veteran forward Erik Cole and veteran blueliner Marek Zidlicky, but the two are already making a big impact in the short span.
In Wednesday's contest against the New York Rangers, it was Zidlicky's night. In a tight matchup that saw the Blueshirts pepper Jimmy Howard with 40 shots, the game headed to overtime in a 1-1 deadlock. However, Zidlicky was able to chip a power play goal past Cam Talbot 1:09 into the extra period to win the game.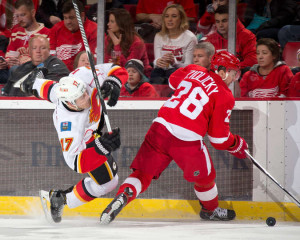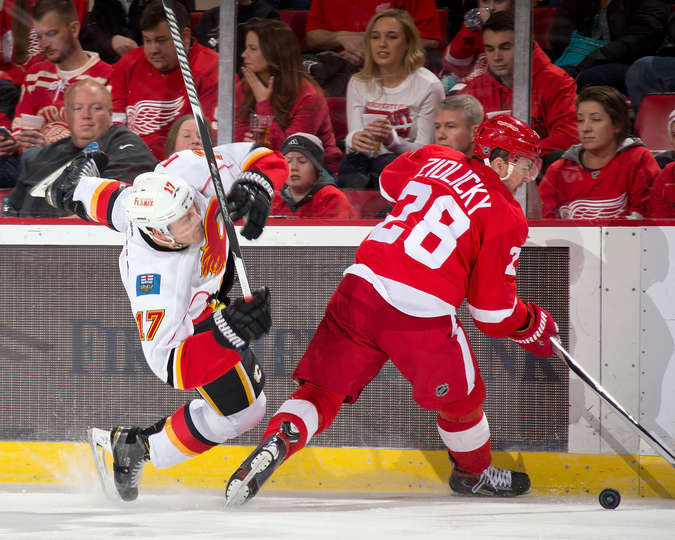 In Friday's game against the Calgary Flames, it was Cole's night. Detroit took an early 2-0 lead right from the start. Cole to Zetterberg to Abdelkader, 1-0. Five minutes later. Cole to Zetterberg to Abdelkader, 2-0. The latter came on the power play.
That second line has been dominant so far, with the trio seemingly finding great chemistry very quickly.
"It is fun to play with him (Cole)," said captain Henrik Zetterberg. "It's really fresh. Maybe we found each other a little better today than we did the first game. It's going to be fun here to create some chemistry going into the playoffs."
Abdelkader, the recipient of three Zetterberg assists in his last two games, said: "That's the player he is. He skates with his head up. He's really smart and he kind of knows that play he's going to make before he makes it and kind of thinking ahead of the opponents out there. I was fortunate, on both of those plays he made great passes. That's what he does. He's a great player, he's our leader."
The Red Wings still have the NHL's best power play unit, converting on 25.4% of their opportunities, and both new additions only help to further bolster an already lethal man-advantage.
Cole has scored 60 power play goals and 65 power play assists in his 13-year career, while Zidlicky has scored 57 power play goals (69% of career total) and 150 power play assists (49% of career total) in his 11-year career.
Their efforts were not enough to help the team emerge with a 'W' this time, as the Flames rallied quickly to score five unanswered goals (including an empty-netter).
This snapped the Wings' three-game winning streak.
"Let's be honest, since the guys arrived, our team hasn't played as good as we're capable of playing," said Mike Babcock, "so I evaluate that more than the individual stuff, but it's good to see that Cole's going to be able to help our team and so is Zidlicky.
Calgary, much like Alain Vigneault's Rangers, like to throw their bodies in front of pucks. The Flames blocked 9 shots in the first, 6 in the second, and 6 in the third for a grand total of 21.
But Mike Babcock doesn't see the need to block shots, so long as you keep the puck out of the opposition's possession and preferably in the offensive zone.
"I don't like blocking tons of shots," he said. "I like playing in their end. You can give it to them and then block the shot and it counts I guess as a good thing on the stat. That wouldn't be a priority for me. The priority for me would have lots of shots on goal and lots of offensive zone play and let them block the shots. Let's just play in their zone."

"Overall, I thought we did a lot of good things," said defenseman Niklas Kronwall. "We had some defensive breakdowns, obviously, but I thought we had a lot of energy. We spent a lot of time in their zone. We had some good chances, especially in the second I thought."
Detroit remains in third place in the Atlantic Division with 83 points, with three games-in-hand on Tampa Bay (86 points) and two games-in-hand on Montreal (88 points).
The Red Wings will travel to Boston to face the Bruins, who are fighting for a wild card spot. In addition to beginning the week on the road, they will end it on the road in Philadelphia
, with two home games in between (Edmonton, Columbus).
Sunday's contest is the first of three consecutive NBC national broadcasts (all 12:30 ET starts). The two mid-week games begin at 7:30, while Saturday's road matchup will take place at 1:00.
In total, Detroit has nine home games and nine away games remaining in the regular season.
Follow me on Twitter @KevinSporkaHOHM
Love Reading About Hockey?

Subscribe to keep up-to-date with the latest and most interesting hockey news!
| | |
| --- | --- |
| | We hate spam just as much as you |