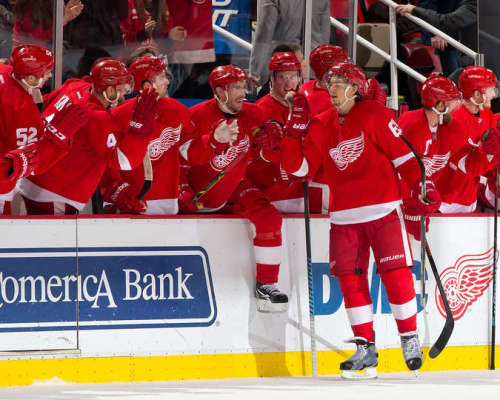 Detroit's offense came alive on Tuesday night. In this game alone they scored as many goals as they did in their previous six games, six goals.
With Jimmy Howard still sidelined with a groin injury, rookie netminder Petr Mrazek made his second straight start and third consecutive appearance.
His team would allow a season-low 16 shots, so he did not face much work. However, three of Buffalo's first nine shots were goals, none of which were Mrazek's fault.
The first goal was the result of an unusual deflection. Drew Stafford lifted the puck to teammate Nicolas Deslauriers. The puck was then deflected in off of Deslauriers's equipment just 2:36 into the game on their first shot (albeit a nontraditional shot).
Stephen Weiss evened things up on the power play midway through the period as he skillfully deflected a Jakub Kindl point shot past goalie Michal Neuvirth.
Not long after the score was evened, the Sabres conducted a perfect rush with Cody Hodgson and Chris Stewart leading the charge. Hodgson dished the puck to Stewart, who then chipped it past Mrazek.
Buffalo would take a 3-1 lead in the second period in what was supposed to be a Detroit power play. However, after a defensive miscue, the Sabres created a shorthanded 2-on-0. Defenseman Andre Benoit took the shot and gave his team the two-goal lead.
Defenseman Danny DeKeyser brought the Wings to within a goal with 2:06 remaining in the second with help from Tomas Jurco and Luke Glendening.
In the third period, Detroit exploded offensively, scoring on three power play goals and once at even strength.
Captain Henrik Zetterberg tied the game early on before Tomas Tatar one-timed a power play goal past Neuvirth to give his team their first lead of the contest.
Johan Franzen scored shortly after, the first time he's found the back of the net since November 20th.
Tatar added a second power play goal on nearly the exact same play and shot for good measure, and Detroit finished the 6-3 victory.
For the Red Wings, this victory came as a sigh of relief. Down 3-1 until late in the second period, they registered three times as many shots as their opponents but it had not translated to goals.
Their persistence paid off, but at a cost. Weiss and defenseman Niklas Kronwall were knocked out of the game due to hard hits and would not return. However, with two key pieces missing, Detroit pulled together for a team effort and managed a convincing victory.
They are continuing to keep pace (45 points) with Atlantic Division leaders Montreal and Tampa Bay (46) while Toronto and Boston are not far behind.
Detroit will need to find a way to win on the road. 74% of their games in January and February will take place away from Joe Louis Arena, not including this Saturday's game in Ottawa.
Follow me on Twitter @KevinSporkaHOHM
Love Reading About Hockey?

Subscribe to keep up-to-date with the latest and most interesting hockey news!
| | |
| --- | --- |
| | We hate spam just as much as you |