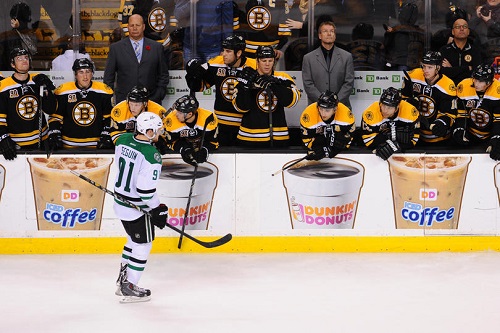 It's all too easy to watch Dallas Stars' forward Tyler Seguin light up Karri Ramo, Reto Berra, and the rest of the Calgary Flames and think, why can't the Bruins get a guy like that? Ever since his departure from Boston in early July, Seguin has been torching teams with Stars, notching 22 points in 19 games this year. Bruins fans have no doubt been looking up the box scores and wondering why general manager Peter Chiarelli couldn't hang on to the former #2 overall draft pick for another year. But I have one problem with that line of thinking: it's wrong. It wouldn't have happened in Boston.
Tyler Seguin has never put up 22 points in any 19-game stretch with the Bruins, and that's not an accident. Claude Julien's 'defense first' style of coaching doesn't allow for the eye-popping stats Seguin's currently putting up in Dallas. And while Brad Marchand and Patrice Bergeron (Seguin's linemates in Boston) aren't offensively inept by any stretch, there are few players that can keep up with Jamie Benn (already with 15 assists), Seguin's current linemate. And that's without mentioning that Seguin average time-on-ice in Dallas is up by over two minutes in than his highest TOI ever in Boston. Seguin played more than twenty minutes four times last year. Comparatively, he's played over twenty minutes nine times already in Dallas. Again, that wouldn't have happened in Boston.
The next logical question is, stats and boxscores aside, do the Bruins miss Seguin? It's obvious that the Bruins lost some team speed replacing Seguin with Eriksson, but offensively, their goal production hasn't suffered. Last year, with Seguin, the Bruins ranked 12th in goals per game. This without Seguin (and with a revamped third line thanks to the Seguin trade), they're ranked 14th, just .1 goals per game behind Seguin and the Stars. To put it another way, when Bruins hear that Seguin is up near the league leaders in goals, their reaction should be simply, so what? The Bruins are within striking distance of the Atlantic division's top spot without anyone scoring more than eight goals, and that's exactly how they'd prefer it.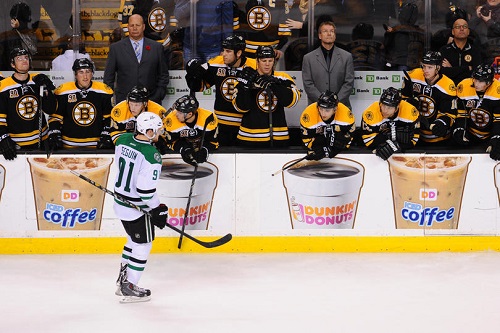 The Bruins just don't place that much value on the skillset of someone like Seguin. Right or wrong (and two Stanley Cup Finals appearances in three years point towards 'right'), Boston's organization aims for two-way players that can play the physical game, and Seguin doesn't fit the profile. Plus, the Bruins organization wasn't exactly thrilled with Seguin's off-ice work regimen, and there were times when the organization doubted his level of commitment to his game.
There are people wondering how inflexible that thinking is, and have asked if the Bruins would be forced to move someone like the Chicago Blackhawks' Patrick Kane because he 'doesn't fit the system' (much like how they moved Phil Kessel before trading Seguin over the offseason). First things first: Tyler Seguin (or Phil Kessel for that matter) is not Patrick Kane. For all Kane's off-ice antics, he's a two-time Cup champion, a Conn Smyth winner, and he averages nearly a point per game (.959) in the playoffs. Seguin, for comparison, averages less than a half a point per game (.428) in the playoffs. Trust me, if the Blackhawks want to deal Kane, the Bruins won't think twice about his off-ice activities.
Will Tyler Seguin end up a better hockey player than Loui Eriksson, Reilly Smith, or anyone else Boston got back in the trade? Possibly. But Seguin's game doesn't fit in Boston, and while that might frustrate some fans, it's tough to argue with the results. He might end up being the electric center that Dallas desperately hopes he can be, but make no mistake: he wouldn't be that guy in Boston. And for those asking, the conversion rate between Seguin's goals in Dallas to goals he might have scored in Boston is the same as the odds the Blackhawks call and offer up Patrick Kane: strictly imaginary.