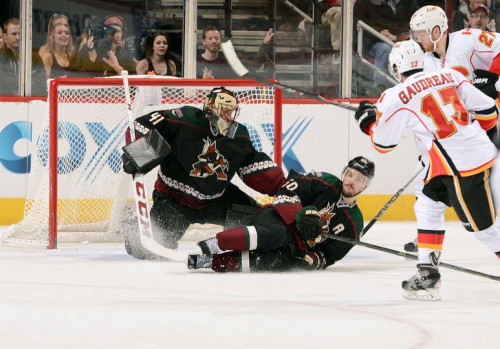 The Flames' disastrous three game road trip through Anaheim, Arizona, and San Jose can be characterized as a microcosm of the team's performance this season. After back to back home wins against the New Jersey Devils and Chicago Blackhawks, the three game road trip against division opponents was seen as an opportunity to climb back into the playoff discussion. Instead of transitioning the impressive home wins into momentum to drive the team to strong road performances, the Flames resorted back to the inconsistent performances that have plagued their season. Now, the Flames sit 8 points out of a playoff spot, tied for last in the Western Conference, and hold the worst road record in the NHL.
In Anaheim, the Flames allowed the Ducks to score three unanswered goals in the third period causing the team to blow its 3-2 lead and lose 5-3. The loss extends the Flames 11 year winless streak in Anaheim. In the loss the Flames played well but lapses in defensive play and poor special team plays (Anaheim 2/2 on the power play while Calgary was 0/2) ultimately cost the team a very winnable game.
In Arizona, the 2-1 overtime loss to the upstart Coyotes can also be marked as missed opportunity. The Flames went 1/6 on the powerplay and only orchestrated 5 shots in the third period and overtime combined. For a team that lacks the offensive depth and consistently strong goaltending performances it is imperative that powerplay chances are cashed in. Giving away games as a result of poor special teams play is a no-no in the Western Conference.
In San Jose, the Flames welcomed back Jonas Hiller with their worst performance of the road trip. Simply put, the Flames were outplayed in every aspect of the game. Once again, the powerplay could have kept the Flames in the game but it went 0/3 while the Sharks were 2/2. Heading home for a 5 game home stand the Flames now have the 29th ranked powerplay (13.4%).
Having a bad powerplay, limited offensive depth, inconsistent goaltending, and an inability to win on the road is not the formula for success. With an upcoming 5 game home stand opportunity knocks again for the Flames. The Flames are currently riding a 4 game winning streak on home ice and are 5-5-0 on the season. After a rough start to the season, clearly home ice has been kinder to the Flames. With the Pacific Division not being full of world beaters like the Central Division a successful homestand can get the Flames back into the divisional playoff race. Just like this past road trip, the success of the homestand could ultimately be determined by the Flames' special teams play.
Love Reading About Hockey?

Subscribe to keep up-to-date with the latest and most interesting hockey news!
| | |
| --- | --- |
| | We hate spam just as much as you |