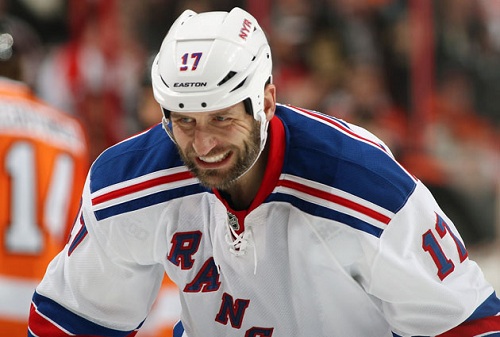 It is never too early to start the trading scene in a season consisting of a limited 48 games. The New York Rangers are taking full advantage of this and know that time is of the essence. The New York Rangers acquired penalty-killer, Darroll Powe, and minor leaguer, Nick Palmieri from the Minnesota Wild in exchange for the veteran forward, Mike Rupp.
The Rangers are lacking that extra jump in their penalty kill and a solid versatile player that can fulfill many necessary roles. While the loss of Rupp may be a disappointment for many die hard Blueshirt fans, the new addition of Powe and Palmieri is a smart move on the part of the Rangers' organization especially with the absence of Ryan Callahan in the lineup. Callahan finished third in the NHL behind Powe last year with 88 blocked shots.
Powe, a former Princeton University Tiger, played in all 82 games for the Wild last season, finishing with six goals, seven assists and 57 penalty minutes.
Palmieri will be sent to the Rangers' AHL farm team, the Connecticut Whale in Hartford, CT.
The 23-year-old winger, a former Devils third-round draft pick , has 10 goals and 11 assists in 40 games for the AHL's Houston Aeros.
The Rangers give up 33-year-old Rupp who had four goals, one assist and 97 penalty minutes in 60 games for the Blueshirts last season. Rupp has played an average of 6:15 for the team in its first eight games.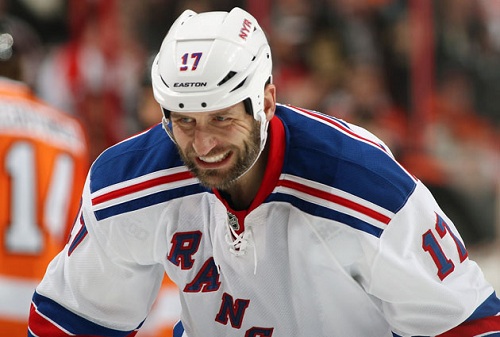 The Blueshirts have also recalled J.T. Miller and Brandon Mashinter, and have assigned Ben Ferriero to the Connecticut Whale.