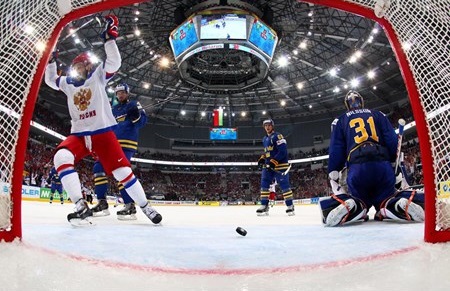 It only took 19 seconds for Sweden to score on a breakaway against Russia in the opening semi-final game in the 2014 World Championship. That's all they would get against the tournament powerhouse Russia. The Russians locked down on defense scored three goals of their own to advance to the gold medal game tomorrow with a 3-1 win.
Sweden's Oscar Moler slid the puck through Sergei Bobrovsky's five-hole in the opening shift of the game as he got in alone behind the Russian's defense. Bobrovsky was spectacular after that. He made 22 saves, including a point blank stop on Moler early in the second period. When Sweden pushed hard to get an equalizer, Bobrovsky was up to the challenge.
On the offensive front, Russia peppered Swedish goaltender Anders Nilsson with 34 shots. Sergei Plotnikov finally broke through for Russia on a one-timer from the faceoff dot. With time winding down in the opening period, Sergei Shirokov forced a turnover at center ice and streaked in. Using the defender as a screen, he was able to put the puck past Nilsson to give the Russian's a 2-1 lead at the end of one. Anton Belov would extend the lead midway through the second period with a booming slapshot from the point.
From there, it was the Bobrovsky show.
Sweden competed in the third, but was unable to solve the Russian goaltender. Things got chippy in the third period with Sweden's Mikael Backlund earning a game misconduct with only seconds remaining in the game.
Russia stayed undefeated through the tournament, and will play the winner of the Czech Republic and Finland for the gold medal tomorrow. Russia continues to march on, and they will be the favorites in tomorrow's game regardless of who comes out of the second semi-final later today. If Russia wins tomorrow, they will finish the tournament with and undefeated record and the gold medal.