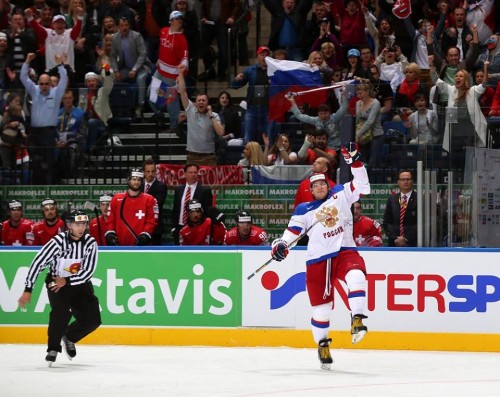 It didn't take Russia long to get on the board in their 2014 World Championship opener. In-fact, it took a mere 13 seconds as Sergei Plotnikov's put Russia ahead and would hold on to having his marker be the game winner. Alexander Ovechkin double Russia's lead on the power-play and Evgeny Kuznetsov tallied one more to give the team a three goal lead going into the first intermission.
Switzerland seemed like a team out of sync for much of the game and only put a handful of good scoring chances together when not being out-dominated by Russia's aggressive forecheck. Anton Belov widened the lead for Russia to four and Danis Zairpov notched a late third period goal to cap off a 5-0 victory. Standing tall in net for Russia was Sergei Bobrovsky who made 27 saves in earning his shutout to open the tournament.
With the win Russia picked up three points and will look forward to earning more to secure a playoff spot. Meanwhile, Switzerland will need to regroup and adjust their game if they plan on making a run to earn a playoff spot of their own. Last year the team went undefeated through the tournament before losing in the golden game. However, Switzerland is without NHL netminder Jonas Hiller in this tournament as his current NHL team, the Anaheim Ducks, is in the second round of the Stanley Cup Playoffs, thus weakening the Swiss team in net for this year's tournament.