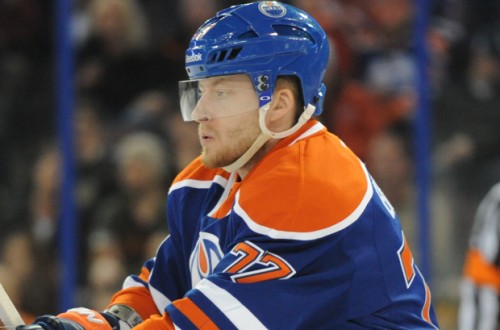 Former Edmonton Oilers defenceman Anton Belov returned to the KHL a little while ago. What caught my attention about the event, however, was a comment he made to Russian reporter Pavel Lysenkov.
When asked about his switch from the NHL to KHL, Belov commented "there is no one reason that made it an abrupt change. It all was building up during the season…and the hire of Coach Bykov [by SKA] was also an influence. The other point is that I could have re-signed with Edmonton, but I didn't want to stay with that coach."
By "that coach," he of course means Dallas Eakins.
Additionally, in a brief Q and A with PuckDaddy, Belov was posed the question of whether he was given a chance to showcase himself as a player. "I will not comment on that," Belov said in response, "why talk about what happened in the past?"
And we all know that generally 'no comment' comes from the mother-enforced attitude of 'if you don't have anything nice to say, don't say anything at all.'
Now, I will insert a disclaimer – I am aware that Belov is just one man. Players and coaches are human beings, and they have their own tastes and style of interaction. Sometimes personalities just clash on a personal level, and it has absolutely nothing to do with skill or talent. Sometimes, there are things that fans will just never be privy to, discussions or comments that happen behind closed doors. Either way, for a player to so clearly state that the coach is a reason he did not want to remain with a team should not be ignored. Belov was apparently useful enough that they were offering to re-sign him – it wasn't as if he was cut from the team for failure to perform. The way Eakins has been handling things was a deciding factor for Belov to turn down their offer, and that can't and shouldn't be overlooked.
There are a lot of dissenting opinions, with many commenting that the Russian KHL was just a better fit for him, that he didn't like the NHL as much, etc. Perhaps he's just using Eakins as an excuse to make an exit for a league he enjoys more. Perhaps one season isn't long enough to get a feel for the way the NHL does things, and that his opinion would have changed had he stuck around.
But perhaps not. And I can't help but wonder if his decision would have been different with someone else at the helm of the Oilers, or if he were on another team.