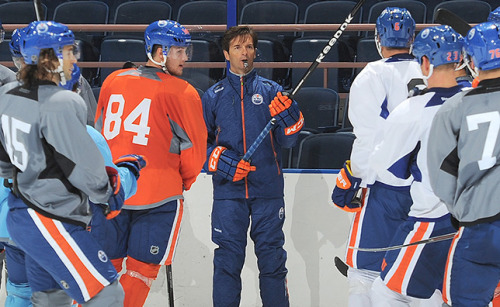 The Edmonton Oilers organization have been carefully watching all the players during the past few pre-season games. They have been ruthlessly pruning the training camp rosters, sending guys down to the Oklahoma City Barons.
After the Oilers' cringeworthy 5-0 shut out at the hands of the Chicago Blackhawks, they sent Curtis Hamilton, Kale Kessy, Jason Williams, Martin Gernat, and Iiro Pakarinen to Oklahoma
After the game where the Edmonton Oilers played the Winnipeg Jets, another five bit the dust. This time it was Travis Ewanyk, Mitchell Moroz, Dillon Simpson, Jordan Oesterle, and Andrew Miller.
Most of the cuts are fairly unsurprising. With a roster as big as they started out with, it's basically a given that many will be sent to Oklahoma to develop their skills. The only way to stand out is to engage beast mode and bring everything you have, which can cause a drastic change in tides. The newly signed Vladimir Tkachev was on most people's list of players that would likely be cut sooner rather than later, but he truly excelled and managed to snag a three-year contract.
Some of the returning players in camp are still recovering – Luke Gazdic and Brandon Davidson are both injured, and some like Andrew Ference and Oscar Klefbom are a little bruised up.
Edmonton now has a roster of 22 forwards, 12 defencemen, and 4 goalies.