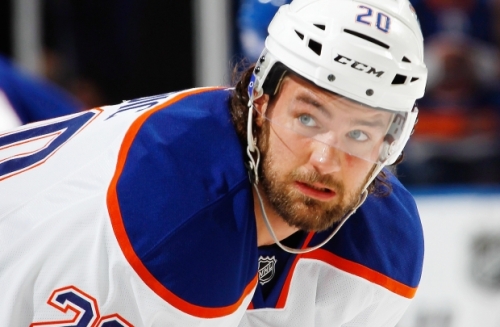 With Luke Gazdic taking it slow in training camp due to his recent shoulder surgery, there's an important question the Edmonton Oilers should be looking at. It's been asked and considered ad nauseum, but that doesn't make it any less important – namely, though a player may be quick, is it detrimental if they don't know how to handle themselves when the gloves come off?
Sure, some players will have a strength in brawling, and they'll be the designated protectors for some of the game, such as Luke Gazdic. Last season, Gazdic was a part of fifteen fights, placing him third in the NHL (tied with Chris Neil) in fights. A large part of this is because Gazdic is a strong, aggressive player who is particular suited to that kind of thing. However, a large part of it is also because many of the players on the ice for Edmonton aren't skilled at taking things to that physical level and the role consequently falls to players like Gazdic. And while the role of enforcers was fairly prominent in the past, players can no longer be quite that specialized – Gazdic himself has received flack for his puck possession and similar stats.
Now, there are some exceptions – Andrew Ference has shown he can be great at scrapping back if the opponents starts to challenge him. But as a whole, many of the young forwards who are getting the most ice time don't really look like they could handle themselves in a brawl. This isn't great on a practical level – there won't always be an enforcer on the ice to step in. It also isn't great on a team level. No one wants to be known as the soft team who folds in every fight. A reputation like that encourages opponents to challenge more and try to get away with more just because they think they can.
So what's the solution? The players receive coaching on everything from their skating skills to their shooting – should fighting be a skill that players should develop, to a lesser degree, so that they can be well-rounded in today's NHL? The Oilers' provincial rivals, the Calgary Flames, seem to think so. They brought in Serge Roberge to training camp to give their players some fighting lessons. Calgary's Bob Hartley was quick to clarify the decision, telling the media that they weren't teaching players to fight; they merely helped them to hold their own in the case of a scrum or confrontation brought on by aggressive playing, like a body-check. "We're just trying to avoid some injuries and instill a little confidence in them that if someone jumps them, at least they know how to react," Hartley said.
The Oilers have a couple good fighters like Gazdic and Matt Hendricks. They also have Rocky Thompson, an assistant coach who is also a Golden Gloves boxer. Thompson has both the technical fighting skills and the NHL experience to really help players learn to handle themselves in fight situations.
Fighting is by no means as important as ice skills such as skating and puck handling, but it is another element to consider during games. If the Oilers are truly trying to build themselves into an amazing team and overcome the past several seasons, it's something they should be at least looking at.