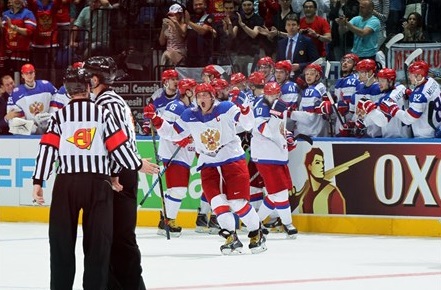 Team Russia completed a perfect tournament today with a 5-2 victory over Finland in the gold medal game of the 2014 IIHF World Championships. In a dominating effort, the Russian team proved what everyone believed throughout the tournament; they were the strongest team in the field.
Russia peppered Finnish goaltender Pekka Rinne with 39 shots and goaltender Sergei Bobrovsky continued his excellence with 24 saves. The big guns for Russia were firing at full blast today as well, as Alexander Ovechkin and Evgeni Malkin both had goals that tied and took the lead in the second period.
Russia took the lead midway through the first period with a Sergei Shirokov power play goal. With only three seconds remaining in the opening period, however, Finland answered to tie the game at one.
Finland actually took the lead early in the second period, but Ovechkin answered less than a minute later and Malkin would score the eventual game winner with five minutes remaining in the period.
This Russian team was a dominant force from opening game to the gold medal game of the tournament. They finished undefeated and relatively unthreatened throughout Worlds and they looked like the best team the entire time.
With this gold medal, the team has somewhat avenged their loss in Sochi, in which they failed to medal. As the World Championships come to an end, this team's balance with incredible goal scoring abilities combined with their stellar goaltending from Bobrovsky will be considered one of the top squads to ever participate in the tournament.