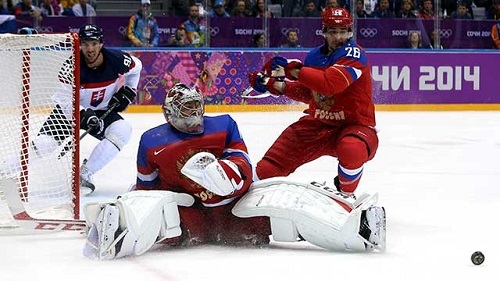 The Russian men's hockey team slipped by the Slovaks in a 1-0 shootout win at Bolshoy Ice Dome in Sochi Sunday.
Slovakia took it to the Russians for a considerable part of the game, outshooting them 22-16 after 40 minutes.
It was in the final frame when the Russians finally pushed back, limiting the Slovaks to just two shots in the third period
Semyon Varlamov made 27 saves for the shutout, but Slovakia's Jan Laco stole the goaltending spotlight, making 36 saves while bailing his team out several times throughout the game. Alexander Radulov, who was originally going to be a healthy scratch due to poor play, was inserted into the line-up and scored the game-winning shootout goal.
Russia, who finished second behind the Americans in group A, will go on to play 12th-seeded Norway in a qualification game Tuesday .
The winner of Russia and Norway will play Finland in one of four quarter-finals on Wednesday.