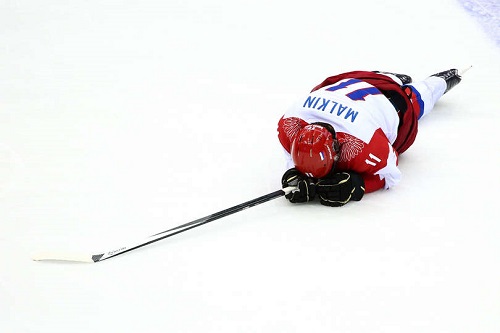 With expectations higher than Soyuz rocket capabilities, the Russians faltered in a devastating 3-1 loss to Finland in the men's Olympic hockey quarter-finals Wednesday.
Alexander Ovechkin was the only Russian player to speak to reporters after the game.
"We try, we fight, we play to the end, but we lost … it's bad," he said, as per TSN.
A little later, the coach spoke.
"We have some players who can score, unfortunately they didn't," Zinetula Bilyaletdinov said, as per CBC's Elliote Friedman.
When NHL teams lose, we're used to seeing players and coaches speak about losing as a team and winning as a team. But when the stakes are high on a national level, especially with political and ideological tension, finger pointing seems much more prominent.
On the ice throughout the tournament, it didn't appear as though Russia was overwhelmingly threatening, culminating in a rough shootout loss to the Americans. The loss forced them to play an extra game and though it was an easier win against the Norwegians, the Russians just didn't have enough to break through to the medal round.
They did, however, outshoot the Fins in all three periods and even notched the first goal of the game on a powerplay rocket from Ilya Kovalchuk. But the final shot count, 38-22, is not representative of which team worked harder. After Kovalchuk's goal, Finland tightened up their play and simply beat the Russians to the puck, prime example being Teemu Selanne's goal following a great Mikael Granlund forecheck on Slava Voynov.
As for Alexander Radulov, he was nowhere to be found after two great efforts against Slovakia and Norway.
Between the pipes, Sergei Bobrovsky shut out Norway Tuesday, but the Russian coaching staff elected to start Semyon Varlamov who was pulled in favour of Bobrovsky just over six minutes into the second period. Their counterpart, Tuuka Rask, made 37 saves and was a vital part of the Fins ousting the Russians from their own tournament.
This plausibly won't be the last time Varlamov and Rask go head-to-head. Both the Boston Bruins and Colorado Avalanche will make a charge for the playoffs and could battle for the Stanley Cup come May.
But the Olympics are not over and the top nations will continue to battle it out for the elusive Olympic gold medal.
For the second Winter Olympics in a row, the historically-dominant Russians will not.