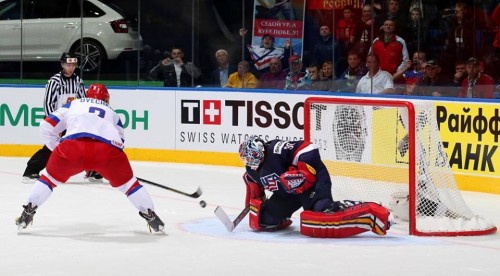 If there was ever a statement game for Russia, this was it. Looking for revenge for the controversial defeat at the hands of team USA in the Sochi Olympics, Russia used a four-goal second period to dominate the Americans today for their third win of the tournament.
Russia skated with intensity the entire game, and took advantage of a rusty Tim Thomas. Russia scored six goals on just 23 shots. Russian goaltender Andrei Vasilevski was spectacular is his tournament debut. He made 39 saves and only gave up a single goal to USA forward Justin Abdelkader in the second period.
Viktor Tikhonov potted two goals, giving him three in two nights, and Alexander Ovechkin's penalty shot tally proved to be the game winner as he pushed the Russians ahead 2-0 at the end of the first period.
Russia was on the attack for the majority of the first period. Despite giving up 40 shots to the US, they were already well ahead before the Americans began putting the pressure on. The second period shot totals favored USA by a margin of 17-7, but Russia was able to take advantage of their opportunities.
Russia will play Kazakhstan on Wednesday, where they seek a perfect 4-0 record. Through the first three games of the tournament, Russia has looked like the most dominant team in the Championships. With powerhouses such as Canada, who lost their opening round game to France, and the USA, who Russia just throttled, the gold looks to be Russia's for the taking.