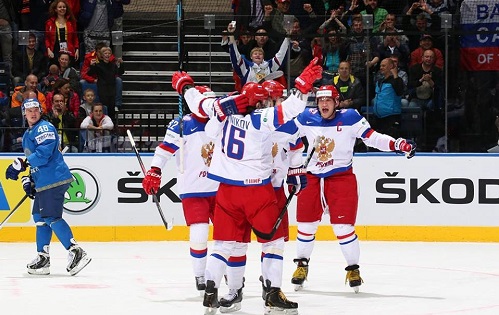 Russia looks like a team that can't be stopped. Just days after crushing the US with a definitive 6-1 victory, the Russians followed up their performance with a 7-2 drubbing of Kazakhstan. They put 47 shots on goal vs Kazakhstan's 18, and only allowed two goals well after the result was all but decided.
Kazakhstan has no answer for the speed and skill of the Russian team that has dismantled every opponent they have faced in this year's World Championships.
Russia only led 1-0 after twenty minutes of play despite outshooting Kazakhstan 15-5 thanks to a powerplay goal from Sergei Plotnikov. The powerplay continued to work for Russia in the second, as Egor Yakolev and Danis Zaripov both netted goals with the man advantage. Plotinkov also potted a PP goal with under a minute remaining in the game. Going 4-6 on the powerplay will win you most games.
After getting the night off versus the USA, Sergei Bobrovsky manned the crease for the third time. While he wasn't faced with many shots or scoring opportunities, he made 16 saves and held Kazakhstan to two goals. Bobrovsky did enough for Russia to win, but he needs to be sharper than he was going forward in the tournament.
Russia remains the only unbeaten team left in the tournament and has an amazing +18 goal differential with 22 for and 5 against. To put that into perspective, the next highest is Sweden's +5. They have 4 of the top 5 scoring leaders in the tournament, and their 12 points earned is the highest amount by far.
The Russians don't play again until Saturday, where they will face a Latvia team who is in the mix for the elimination rounds. If they continue to play at this level, it's tough to see how any team in the field will stop them from winning it all.