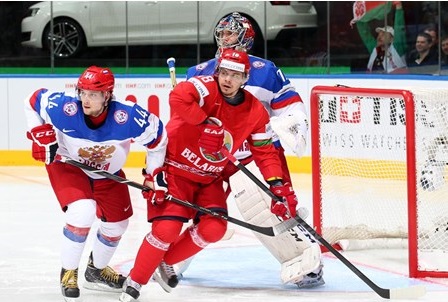 Russia was able to squeak by host Belarus 2 to 1 today to finish out the round-robin portion of the tournament. In their first game since losing superstar Alexander Ovechkin to what's being called not a serious knee injury, Russia struggled to find their offense for much of the game. Belarus was also playing in front of a home crowd and off of the energy that comes with clinching a playoff spot in the tournament.
Sergei Plotnikov's power play goal in the second midway through the period broke a scoreless tie, and Vadim Schipachev scored just three minutes later to give the Russians a two goal lead. That would prove to be enough as goaltender Sergei Bobrovsky allowed just one goal on 20 shots. Belarus pushed the tournament favorites to the limit, but Russia prevailed again.
With the opening round of the tournament finished, Russia stands alone in first place with a perfect 7-0-0-0 record and 21 points. They finished three points clear of second place Canada and Sweden from group A, and a full seven points ahead of second place USA in their own bracket.
Russia squares off against France on Thursday in the quarterfinals. France upset Canada in the first game of the tournament, so Russia shouldn't take their opponents lightly, despite them only having 12 points through the first round.