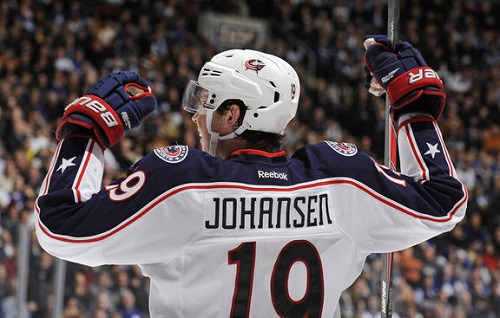 In the 2010 NHL Entry Draft the Blue Jackets used their first round pick on Ryan Johansen who was selected fourth overall.
The Blue Jackets never had a top-line center to anchor a line with Rick Nash and most assumed that Johansen wouldn't be that player but since he was drafted so early it was clear that the organization thought he was the best candidate to fill that role.
His NHL career got off to a tepid start but in his third season he's beginning to blossom into a dynamic player. Johansen has already registered 8 goals and 16 points through 25 games and leads the team in goals scored. Last season he played 40 games and only registered 12 points during the entire season. (Fantasy owners beware, he's not the most consistent option but when he scores he usually puts up multiple points and he's on the Blue Jackets first line.)
Critically, Johansen didn't fair too well over his first two seasons in the NHL. He didn't score enough points to make a real impact and it seemed like he was heading toward "bust" status. Taylor Hall and Tyler Seguin were drafted ahead of Johansen and both players were able to make an immediate impact on their respective teams. Even players like Vladimir Tarasenko and Jeff Skinner were drafted later in the first round and impacted the league more effectively than Johansen had.
Or so it seemed. Perhaps now we can begin to give Scott Howson some credit, he noticed the potential in Johansen and thanks to websites like extraskater.com we can examine the impact he has had since coming into the league through statistics and analytics.
To me, the most important statistic we can use to evaluate a player's on-ice performance is a statistic called "Corsi" which is the sum of shots, missed shots and blocked shots. Last season Johansen's Corsi For Percentage (CF% = Corsi For / Corsi Against) was 51.4%. This means that while Johansen was on the ice the Blue Jackets were able to shoot more pucks toward the net, effectively controlling a majority of the play in the offensive zone.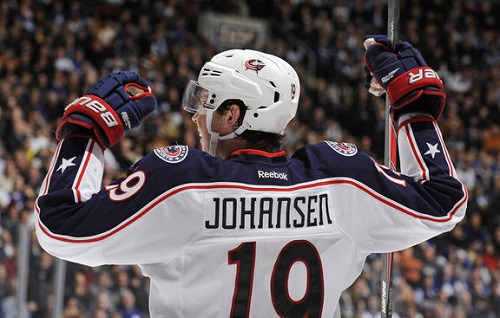 In comparison, his performance this season has improved. His Corsi For Percentage is currently rated at 55.7% in all situations.
Now we have to wonder why he's able to get so many more shots toward the net when he is on the ice and most would assume that he's probably getting more power play time, which is true but Johansen is only seeing a minor amount of extra power play ice time compared to last season. We're talking seconds per game. Another reason could be that he is beginning more of his shifts in the offensive zone. This is also false. Last season he began 33.9% of his shifts in the offensive zone and this season he is beginning 27.4% of his shifts in the offensive zone. Most of his starts are coming in the neutral zone (39.4%) and the defensive zone (33.2%).
It's with good reason that the coach trusts Johansen to take more starts outside of the offensive zone and that is his increase in faceoff win percentage. During his rookie season Johansen only won 45% of his faceoffs and this season he is pushing 53%. His ability to win the draw has helped the team become one of the top 10 best faceoff teams in the league (or third best in the Eastern Conference).
This season provides a smaller sample size compared to last season, but Johansen has shown improvements in most of the categories that I would deem essential. Even his shooting percentage is up from last season. 7.5% of his shots were goals last season compared to 10% this season.
I love to break things down to a statistical level when I want to examine what impact a player or team is having or has had in the past. When I can back up what I am seeing during a game with evidence, it's basically saying that my eyes aren't fooling me. Some of what I've seen over the past few seasons is a player with more confidence. He's trying to create scoring plays with every opportunity he has. He's also matured physically by adding 30 pounds to his 6-foot 3-inch frame since he came into the league, playing in the dirty areas and working the puck along the boards has become easier. It's become, in effect, exciting to watch him on the ice.
If Johansen manages to maintain this pace throughout the season he could finish with 26 goals and 52 points, both would be career highs. It's not the offense that Columbus desperately needs right now, but it's a big boost. Since Rick Nash's departure Columbus is looking for their next superstar. Johansen isn't all-star material at this point in his career but if he continues to improve the way he has into his prime, then we are watching a future star begin to rise.
Love Reading About Hockey?

Subscribe to keep up-to-date with the latest and most interesting hockey news!
| | |
| --- | --- |
| | We hate spam just as much as you |