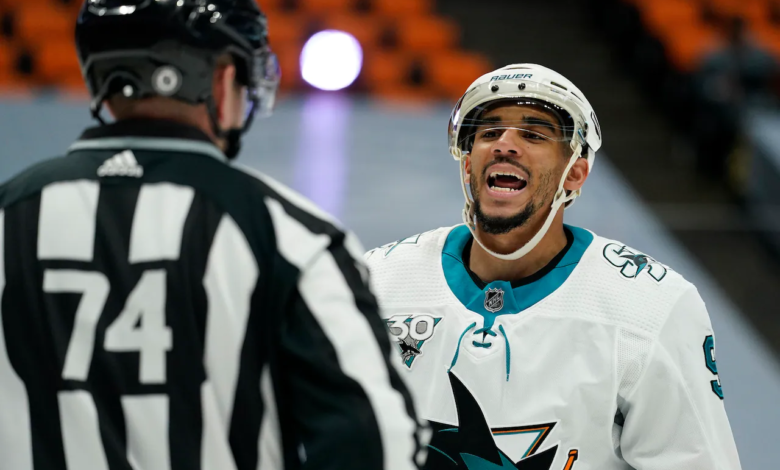 San Jose Sharks forward Evander Kane has been suspended for 21 regular-season games, without pay, for an established violation of, and lack of compliance with, the NHL/NHLPA COVID-19 Protocol, the National Hockey League announced on Monday.
Under the terms of the Collective Bargaining Agreement, the forfeited pay goes to the Players' Emergency Assistance Fund.
#NHL announces a 21-game suspension of #sjsharks Evander Kane for "an established violation of Covid-19 protocol."

The league also says its investigation into allegations of domestic abuse by his ex-wife "could not be substantiated." pic.twitter.com/HLJTAi5VJA

— Frank Seravalli (@frank_seravalli) October 18, 2021
Kane will not be eligible to play prior to San Jose's game on Nov. 30 in New Jersey.
The statement from the NHL also stated that the league's investigation into allegations of domestic abuse made against Kane from his estranged wife, Deanna, could not be substantiated. The NHL said there would be no further comment on the matter.
Kane was left off of the Sharks' opening night roster, noting that he "is considered a non-roster player pending completion of the NHL's investigation."
Kane led the Sharks with 22 goals and 49 points in 2021 and has three years left on his contract after this one with a $7,000,000 annual cap hit.
Back in August, Kevin Kurz reported in The Athletic that the Sharks were trying to trade Kane due to a strained relationship with many of his teammates.
"According to one source, the frustration with Kane stemmed from a general "disrespect for team rules," such as being late for practices and games.
'And zero consequences came, which caused a ripple effect with other, younger guys,' added the source. According to another source: 'It wasn't easy dealing with him this season.'"