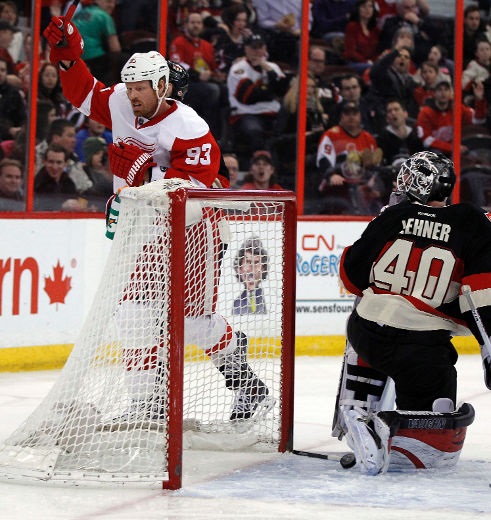 The Ottawa Senators were crushed 6-1 at the hands of the Detroit Red Wings in a crucial game at the Canadian Tire Centre Thursday.
Following a 2-1 Red Wings overtime victory against the Montreal Canadiens Wednesday, the Senators had an opportunity to close a three-point gap separating them from the final eastern conference playoff spot.
Instead, their playoff chances dropped nine per cent to 17.2 after the lob-sided loss, per sportsclubstats.com.
"Things certainly didn't go our way," coach Paul McLean said. "I thought we came out and got started but we turned the puck over four times in the first period and they put it in our net all four times."
Johan Franzen scored five goals against Robin Lehner in a 7-5 Red Wings victory back in 2011. He chased the young Swede from the net once again Thursday.
Lehner was pulled after allowing the sixth goal of the game. He began a frustrated charge to the Ottawa dressing room before he was stopped by MacLean.
"It sucks," Lehner said post-game. "They got a few goals pretty fast … [it] snowballed." The future of Ottawa's crease declined to speak about what his coach said to him after he gave up the game's last goal.
With the loss, the Senators have put themselves in a position where they must compete with other teams in the standings to reach a wild card. They're deadlocked with the Columbus Blue Jackets and New Jersey Devils at 63 points while the Carolina Hurricanes are hot on their tails with 61 points.
The teams that currently hold wild cards have started to distance themselves from the field, making it increasingly important for Ottawa to win with 22 games remaining in their regular season schedule.
At this point, Adopting a "win and you're in" attitude would be ideal.
The Sens will now travel to BC Place where they'll participate in the Winter Classic v.s. the Vancouver Canucks.