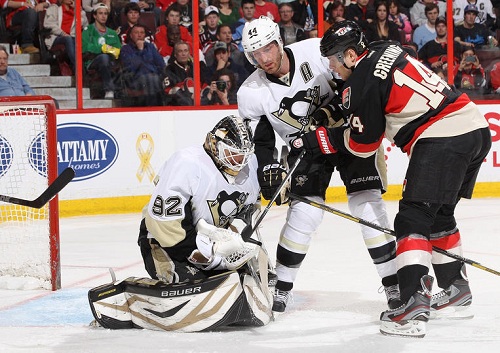 Pittsburgh Penguins defencemen Brooks Orpik solidified his team's eastern conference semi-final showdown with the Ottawa Senators after he ripped a one-timer past New York Islanders' Evgeni Nabokov in overtime Saturday night.
Senators coach Paul McLean said preparation was underway for a series that won't start before Tuesday, May 14.
For those hoping for a second-round return from Jason Spezza, don't. GM Bryan Murray says there's still a few steps to take before their star forward can return.
"It takes a bit of getting on the ice with the group, getting involved with the group, working hard with them," he said.
"Hopefully he can make himself available for the coach at some time to decide if its time or not. I don't pretend to know what that timetable would be."
"He's an important player for us. He hasn't played all year, though. t's a big step to get thrown into a series when everyone has been playing for a long time here."
McLean likely isn't including Spezza in his short-term plans.
"I don't know what the hope is," the coach said. "He's in a rehab process and the process has him skating and that's still part of the process, but to me he's still a long way away."
Shifting back to Ottawa's second-round opponent. The Pittsburgh Penguins.
The Penguins were 3-0 against Ottawa this past regular season, outscoring the Senators 9-4 which supports what some characterized as a lack of scoring ability. In their series against the Canadiens, this was not the case. Ottawa scored 20 goals, averaging four goals per game. They are second in goals-for to none other than the Penguins who have scored 25 goals over 6 playoff games thus far. Where the Senators have the advantage is goals against. The Senators have let in 9 goals in 5 games whereas the Penguins have allowed 17 goals in 6.
That brings us to a goalie comparison.
The Penguins' Marc-Andre Fleury was perfect in his first game against the Islanders but was shaky in the games that followed where he allowed 14 goals in a three-game span. That left the door wide open for backup Tomas Vokoun who threw up a shutout and a .961 save percentage in the two games that he won, one of which propelled the Penguins to the second round. The Senators' Craig Anderson, who is arguably one of the main reasons the team has made it this far, has put up a stellar .950 save percentage and a 1.80 goals against average over 5 games. Tomas Vokoun and Craig Anderson have played a collective 31 playoff games so it would be useless to compare their playoff experience. Fleury has more than double the playoff experience of both goaltenders but whether or not that'll sway coach Dan Bylsma in terms of a goaltending switch remains to be seen. The rule of thumb is to stay with the hot (or hotter) goalie so Vokoun will most likely be standing in the Penguins' crease until his play proves otherwise.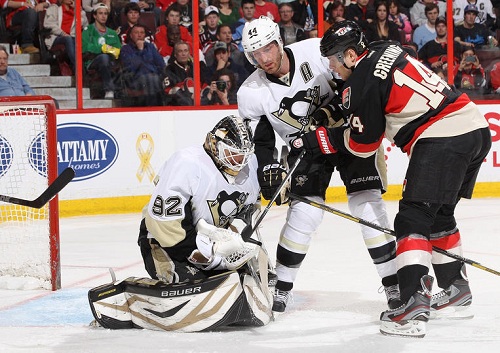 In order to beat the Penguins: The Ottawa Senators shouldn't focus on containing Sidney Crosby and Evgeni Malkin. With recent acquisitions such as Jarome Iginla and Jussi Jokinen to name two, Pittsburgh's depth is just too great. They should focus on playing tight defensively against every single player who looks to cross their blue line. That means players like Marc Methot, Jared Cowen and Erik Gryba need to, at minimum, continue, or up their physical and defensive play. In the offensive end, the team must continue taking lots of shots while getting traffic in front of the Penguins' net. The goals will come with an effective fore-check and waves of pressure on the Pittsburgh defencemen who will be looking to get control of the puck for a swift break-out. Overall, it is imperative that the Senators' defensive and offensive strategies remain in tune as a mistake in either end will end up in the back of their net, especially against a Penguins squad that scored the most goals in the NHL this season. Erik Karlsson has 6 points in 5 games but needs to be better with the puck this series, mainly in and around his own end.
Speaking of Karlsson, the team needs to forget about Matt Cooke and not let him 'into' their heads to win this series.
If Ottawa can execute these main criteria, they will succeed in their series against the Penguins. The Senators may have taken out the Canadiens in an easy fashion but they haven't truly had to shut anyone down thus far. They'll have to do just that to beat the Penguins.
But, only the puck dropping and the teams hitting the ice will truly reveal how this series will go.