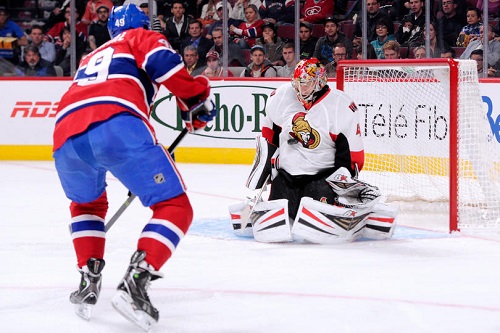 The Ottawa Senators were defeated by a score of 3-1 at the hands of the Montreal Canadiens Thursday evening at the Bell Centre.
Despite the loss, head coach Paul McLean said the team played well.
"I thought we got a lot of good results, " he said. "I thought a lot of players gave a very good account of themselves and as a team, we're pleased with effort we put in tonight."
The coach also commented on Craig Anderson's performance in his first full game this pre-season.
"I thought Craig was fine. I thought he looked good … I didn't really have any big issues with any the goals that went in in the game, it was more a coverage thing on all three of them," McLean said.
Anderson also spoke post-game and commented on how the young players played.
"'I'm really proud of our guys," he said. "A lot of young guys in our line-up, a lot of guys who that don't have a whole lot of experience but they came out here … they played the system pretty good, they worked hard."
On the topic of young guys, the Sens were still in the process of narrowing down their roster to 22 or 23 players going into their sixth pre-season bout.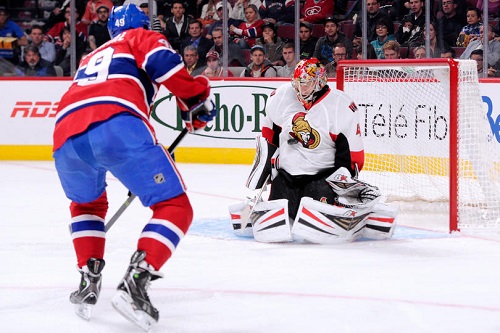 On forward, there are realistically three spots left assuming the team takes 14 forwards, 7 defensemen and 2 goalies.
Jean-Gabriel Pageau, Mark Stone, Cory Conacher, Mike Hoffman, Stephane Da Costa and Andre Petersson are the players who are eligible for those spots. Jim O'Brien was placed on waivers noon Thursday, but is eligible to play in the inter-squad games against the New York Islanders this weekend. If he clears waivers Friday, he'll go back to Binghamton.
The team has been trying to deal him for quite a while but no one is likely to make a move now due to the fact that teams still have many of their own hopefuls in camp.
O'Brien, Da Costa, Hoffman and Conacher must be waived if the Sens want to send them to Binghamton which means they'd essentially be giving away Conacher as well as Ben Bishop for nothing. Conacher is a lock.
Pageau, on the other hand, is on a two-way deal which means there's no risk in sending him down, but after impressing during last season's playoffs and a consistent training camp, he'll likely start the season in Ottawa.
For the third and final spot, it's hard to say, but the serious contenders are Da Costa and Stone. It's just a question of where either will fit in if Conacher plays on the second line like he should.
Ryan – Spezza – Michalek
McArthur – Turris – Conacher
Zibanejad – Zack Smith – Chris Neil
Greening – Pageau – Condra
Kassian, (Stone or Da Costa)
The blueline is much easier to sort out.
Methot – Karlsson
Cowen – Phillips
Wiercioch – Corvo\Gryba