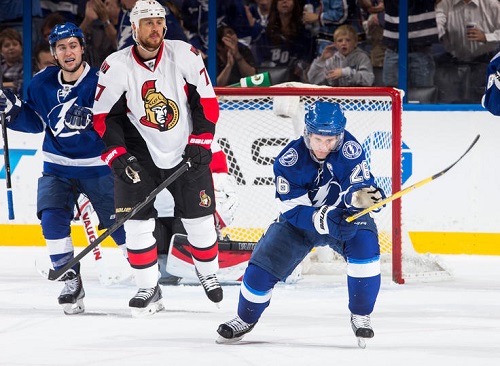 After coming off a much-needed win against the Florida Panthers, the Ottawa Senators fell 3-1 to the Tampa Bay Lightning Thursday.
Going into Thursday evening's tilt in Tampa, the Sens were five points back of the Toronto Maple Leafs for the final playoff seeding in the Atlantic division. A win against Tampa, a regulation Toronto loss, and the Sens would've been within striking distance of the final Atlantic playoff spot going into their weekend date with the Maple Leafs.
Following the loss, they now find themselves seven points behind Toronto.
Captain Jason Spezza appeared to be slightly frustrated in the post-game when he was asked if desperation was lacking in the team's game. "We were prepared — we wanted to win," he said. "We just didn't win."
Spezza, who was -1 without a point in the game, said the team lacked confidence. "It just seems like were a little bit scared to make mistakes, and when you play cautious like that, you're not playing with enough confidence," said the centreman.
But head coach Paul McLean denied that his team played with prudence. "We certainly didn't give any direction to be cautious," he said. "We thought we were coming out and playing hard … we just didn't get it to the net often enough."
"At the end of the day, they played harder than we did for longer, and that's usually how you win hockey games. If you play harder [for] longer, you get to win."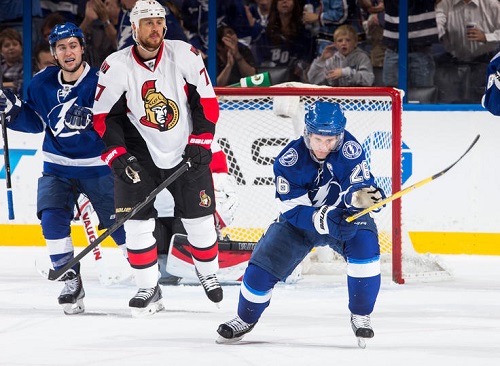 The loss marked another 'kick me while I'm down' moment for the Senators as they fell to another team with a former player of theirs. Last season, Ben Bishop was mostly picked up by Ottawa to motivate Robin Lehner, and it worked. When Lehner was confident, Bishop was then no longer needed. This is when the team shipped him to Tampa Bay for Cory Conacher. Thursday's match-up facilitated some doubt among Sens media and fans about whether or not the team should've moved Anderson instead of Bishop. And that's in addition to the fact that Martin St. Louis was once not even given the time of day at a past Senators training camp.
Regardless, this part of the season is crunch time for bubble teams. Whether or not they can put wins together at this point provides a relatively accurate indication of their playoff prospect. Given, the Sens had an opportunity to make some real ground going into a busy weekend of hockey.
Thursday's loss was a step in the wrong direction.