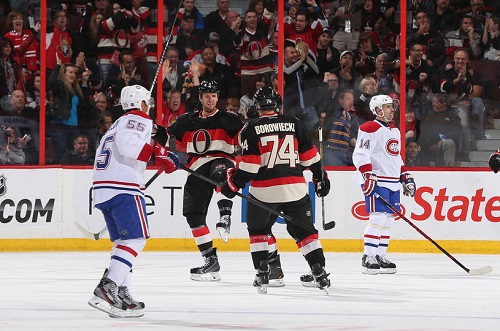 The Ottawa Senators made some progress in the standings when they beat the Montreal Canadiens 4-1 at Canadian Tire Centre Thursday.
"That's essentially a four-point game," Bobby Ryan said post-game. "It does close that gap and we dug ourselves a little bit of a hole here on home ice, so, to take care of our home ice [and] win two points, takes us steps closer to where we need to be."
"Starting from that .500 mark and going from there is beneficial for us," he added.
The team is now a point back of the Canadiens who currently hold one of two wild card positions, but coach Paul McLean says there's still work to be done.
"That's a good sign for us and we just have to keep continuing … come back here again tomorrow and continue to work at getting better," he said.
Robin Lehner made 33 stops and was a big part of the Senators' victory. McLean said he liked what he saw from Lehner but maintained that Craig Anderson is their number one.
"Craig Anderson is the number one goaltender and at this point when Craig is healthy and ready to play we'll make the decision as to who gives us the best chance to win the next game that comes up, " He said. "We're not going to make any decisions until then."
Lehner said the team played better defensively over the past two games.
"We're playing better defensively," he said. "Our big players are stepping up and doing good things and today we got two goals from the [defencemen] — so, good game."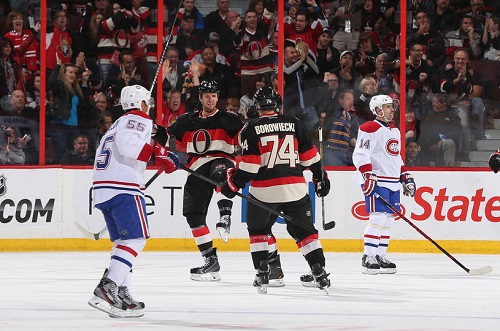 Mark Borowiecki, who was recently called up from Binghamton, scored his first career NHL goal in the win.
"I think we've got a bit of a homestand too, here, so it's nice to maybe get on a bit of a roll and build," he said.
Borowiecki was brought up to mix a different attitude into the dressing room. McLean said he's doing just that.
"When we brought Mark up we said we wanted his attitude and I think that has certainly been the case the last couple of games that he has played," McLean said of his defencemen. "The attitude is better, the physicality of our team is better and Mark has a lot to do with that."
Ryan, who, despite having scored a goal and adding two assists, said some of the game didn't feel right.
"It was okay," he said. "I didn't feel very good in some situations and the most important thing is that we got two points and we get some much needed rest here. Every other night's been tough and taxing."
The Sens did a great job in the face-off circle, winning 77 per cent of the game's draws, but were outshot 34-24, and have now been in five of the six games they've won.
Ottawa will continue their five-game home stint on Saturday Nov. 9 when they take on the 3-9-4 Florida Panthers at Canadian Tire Centre.