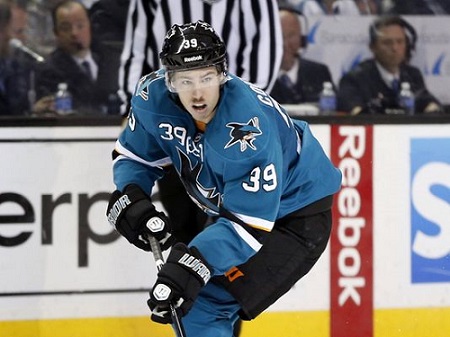 Sharks' forward Logan Couture underwent surgery Wednesday and is now joining the IR list that has plagued many shark forwards this season . Couture had been playing with an upper body injury in his right hand for the past several weeks.
"Despite his efforts to play through it, the injury has not responded as we had hoped and Logan has made the decision to undergo a surgical procedure to repair the problem.
"While the timing of the procedure is not ideal, Logan feels it is in his and the team's best interest to get the problem rectified now.," General Manager Doug Wilson stated in a press release on the Sharks' website.
Couture's surgery was announced following an impressive point streak of four goals and one assist in his last five games. He had ended a career-long scoring drought, 11 games, with his 100th NHL career goal– the goal that started his streak.
"He's part of the heart of our team right now. He makes other people around him better," Head Coach Todd McClellan said of Couture's presence on the ice.
The Sharks have been struggling to keep players off of injured reserve this season. Superstar rookie, Tomas Hertl, is expected to be out the remainder of the season with a right knee injury, which resulted from a knee-on-knee ht by Los Angeles Kings captain, Dustin Brown, back in December.
Forwards Adam Burish and Raffi Torres continue to remain on injured reserve due to injuries. Burish had back surgery in October of this season, and Torres had surgery to repair a torn ACL. Martin Havlat was added to the injured reserve in late December for a lower body injury.
Tommy Wingles and Tyler Kennedy both returned to the lineup for the 4-1 victory against the Detroit Red Wings Thursday night, at the SAP Center.
Wingles was out for five games with a lower body injury after going hard into the boards in the game against Anaheim on the 29th of December, while Kennedy was out with the flu.
According to McClellan, Couture seemed upbeat and ready for therapy after his surgery. He is expected to be out of the lineup for three to four weeks while he recovers. Burish, Torres, and Havlat do not have expected dates to return yet.
The Olympic break– February 8th through the 26th- will hopefully give players on the injured reserve time to rest and recover, allowing them to come back and play during the final push of the season before playoffs.