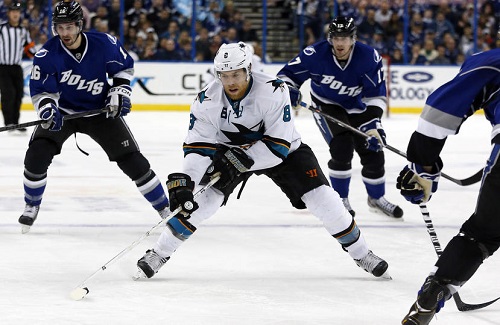 The San Jose Sharks have been struggling to win in consecutive games. The last time they did so was back in December, when they had a four game winning streak from the 21st through the 29th. Since then, they have won every other game, never winning two in a row. The Sharks were finally able to break that habit with three games on the road — Washington Capitals 2-1, Florida Panthers 3-0, and Tampa Bay Lightning 5-4.
The road trip included many highlights for the team, such as Alex Stalock's first NHL career shutout and Joe Pavelski's first NHL career hat trick. Stalock saved 24 shots in the 3-0 victory against the Panthers. Stalock made use of his seventh career start, proving his value in the net. "The first shutout is pretty special, something to remember," Stalock said of his performance. It was the third shutout for the Sharks this season, giving the whole team something to celebrate about.
Pavelski got his first career hat trick in an exciting game against the Tampa Bay Lightning on Saturday. It was the last game of the road trip, and the Sharks were down 4-2 early in the second period. Lightning's Martin St Louis scored all four goals for his team. Pavelski's hat trick would be the much needed response to St Louis' last three goals. Pavelski scored three unanswered goals in six minutes and 12 seconds in the third period to get the hat trick, and give the sharks the lead.
California native, Matt Nieto, also had success on the road, scoring two goals in two consecutive games. He got a goal in the shutout against the Florida Panthers and was the first to score in the nine goal game against the Lightning. He also got picked up an assist for Patrick Marleau's goal against the Lightning. He now has four goals and nine assists this season.
Captain Joe Thornton scored his sixth goal of the season in the game against the Florida Panthers. It was his first goal in the last 21 games. While scoring opportunities are few and far apart for the captain, he is currently leading the league in assists. After this road trip, Thornton now has 46 assists and is 25th among the all-time assist leaders.
The Sharks will return to San Jose for a four game home stand. Hopefully they will continue to have success as a team, as well as having strong individual efforts. Their winning streak is now at three, let's see if they can extend it on home ice.