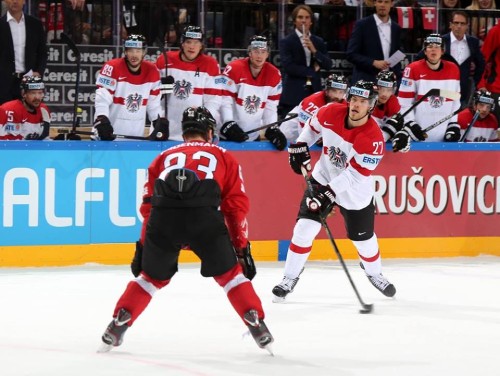 Philadelphia Flyers' Michael Raffl and brother Thomas led the charge to lift Austria over Switzerland on Saturday's matinee affair that saw the two teams go the distance and have the game decided on a shootout. Though Austria was dominated in the shot category, facing 37 shots compared to their 25, some sloppy play and opportunistic goals saw the Austrians defeat their favored rivals.
Despite the shot counter; the game was much closer than it would have been on paper, as no team pulled ahead by more than 2 goals, with Switzerland taking the lead early in the first off a Felicien du Bois goal with just over a minute elapsed in the game. The Swiss failed to double up on their lead two minutes later as Kevin Romy would miss a penalty shot; further, they also failed to capitalize on a double minor assessed to Brian Lebler for high sticking in the same period, giving some momentum to the Austrians at the close of the first period.
Austria seized the opportunity, as Thomas Raffl slotted the puck past Reto Berra early in the second; they were deflated for the rest of the period, however, as they surrendered a short-handed goal that restored the Swiss lead. Shots in the second period were largely in favor of Switzerland (12-2).
The third period saw the bulk of the action, as Brian Lebler would knot the game back up three minutes into the frame; however, Matthias Bieber would restore the Swiss lead halfway through the period. It seemed like the last big chance that the Austrians would get would happen when Lugano's Damien Brunner was assessed a hooking penalty, which led to an onslaught on Berra that he would withstand; but the Austrians weren't done yet: with just under a minute left, Michael Raffl would find the back of the net to send the teams to overtime.
The decisive goal in the shootout was scored by Konstantin Komarek, after a Michael Raffl miss and a Bernhard Starkbaum save on Damien Brunner. Austria is back in action tomorrow when they take on Sweden, while Switzerland will take on France later the same day.