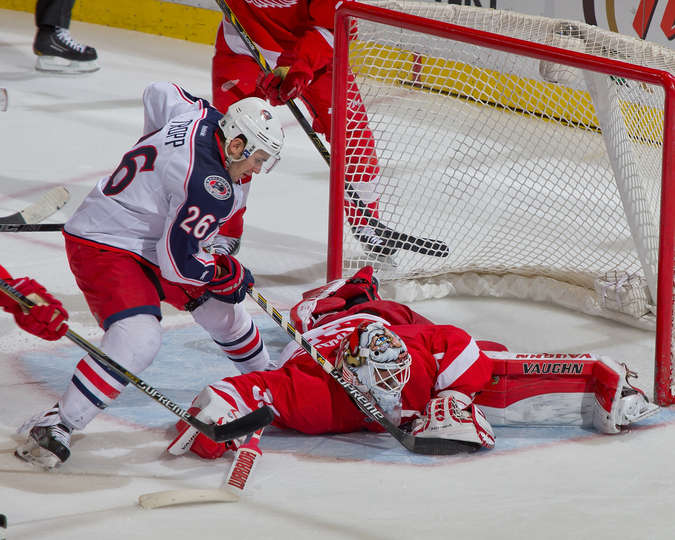 Detroit lost yet again in the shootout Tuesday night to the Columbus Blue Jackets. The Jackets have now won seven straight contests after regaining some key pieces on their roster, the longest current winning streak in the NHL. For the Red Wings, the loss marked their fourth consecutive defeat and sixth shootout loss of the season. No team in the league has more shootout losses, while only the New Jersey Devils come close with five.
The last time they faced Columbus was November 18th, when they won in convincing fashion on the road in Nationwide Arena 5-0. The difference between then and now? Injuries. Columbus did not have forwards Brandon Dubinsky, Matt Calvert, or Jack Skille in the lineup. This time they did.
"They got Dubinsky back in the lineup. I believe they were missing Calvert. Skille wasn't in the lineup, but they are missing Hartnell," said Jimmy Howard. "They have some really good players up front and they got some big physical 'D' that can skate and move the puck. It's tough to get to their net. They're a solid team. They've been playing really good hockey as of late."
Howard, who earned himself a shutout, was saddled with the loss after an outstanding performance, making numerous game-saving stops when his team needed it most. One of his biggest saves came midway through the third period, when Columbus's quick passing allowed them to get past Detroit's defenders. Forward Corey Tropp received the puck near the crease and quickly tried to chip it past Howard. But the Red Wing netminder lunged forward, smothering the chance with his glove.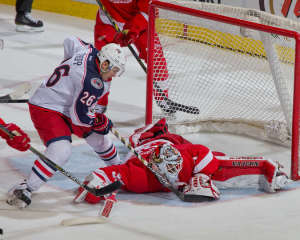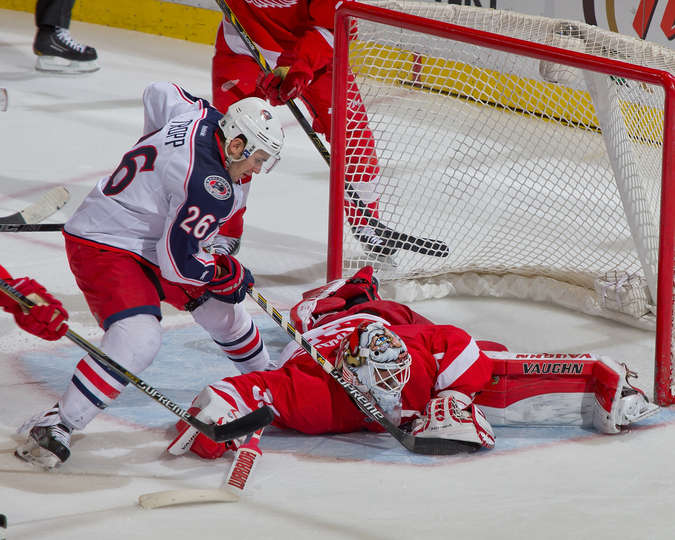 Seven minutes later, Howard faced the Jackets' leading scorer Nick Foligno, who broke past defensemen Niklas Kronwall and Kyle Quincey before delivering a quick backhander that was thwarted by a left leg extension, as he was able to guard the post perfectly.
Detroit's offense was not without chances though. Late in the second period, Gustav Nyquist had a grade-A scoring chance while the Red Wings were on the power play. However, his backhander on a point-shot rebound did not have enough height to make it past 2013 Vezina Trophy-winner Sergei Bobrovsky. That was the closest Detroit would come to scoring a goal all night.
In the overtime period, Howard would catch a big break as defenseman James Wisniewski missed an empty net while he was caught out of position.
Mike Babcock opted to shoot second in the shootout. It got off to a promising start, as Howard stopped a shot by Cam Atkinson and Pavel Datsyuk scored in Round 1. However, Nyquist and Zetterberg would not score, and Columbus's Ryan Johansen and Boone Jenner did.
Howard expressed his distaste with the skills competition. "They don't have them in the playoffs."
Losing the shootout 2-1, Detroit would lose the game by a score of 1-0. For a team that scored 33 goals from November 24 to December 7th (eight games, 4.13 goals-per-game), they have now scored just four in their last four (1.00 goals-per-game).
There was one positive though. Defenseman Danny DeKeyser returned to action after being sidelined with an upper-body injury.
"I felt pretty good," said DeKeyser. "Made some good plays, made a few mistakes that I wish I could have back, but that's kind of how it goes after a few days off."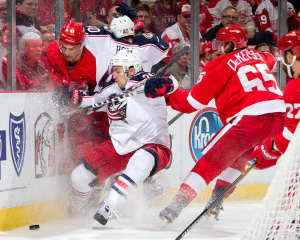 "I thought we played pretty well. It looked like we had a lot of energy. I thought our forwards were skating really well. We had some chances, but we weren't able to bury it."
Babcock thought both teams played well, and noted that they tried a three-forward setup in the five-minute overtime as an attempt to avert the shootout.
"It was a tight game," he said. "They had chances, we had chances. Both goalies were outstanding. In overtime, Kronwall made an unbelievable pass to Tats (forward Tomas Tatar) for basically an empty-netter, and it bounced over his stick. We try not to get to the shootout. We had three forwards on the ice there for two shifts and tried to do it that way. In the shootout, we changed it up a bit, let them go first, and got the first save, got the first goal, Nykie hit the post. It was a tight game all night long, and in the end, they got two points, we got one point, so let's just keep on getting better."
Detroit's next chance to get better will be against the New York Islanders who have won six of their past ten games. The Wings have only three regulation losses at home, which is the second fewest of any team, while the Isles are 9-7-0 on the road.
In the Atlantic Division standings, the Red Wings now find themselves in a four-team cluster at the top. With their win on Tuesday, Tampa Bay improved to 43 points, while Montreal improved to 42 points, tying Detroit with the same number of games played. Meanwhile, the Toronto Maple Leafs have caught fire and are riding a six-game winning streak, winning eight of their past ten matches. The Leafs have 41 points with a game-in-hand on all three teams.
The home-heavy schedule continues this month, and is key to Detroit's success this season, with much of January and February taking place away from Joe Louis Arena. Four of their final six games this month are at home, and they will need to do better than their current 2-1-3 December home record so far.
Friday's matchup will take place at 7:30 ET in Detroit.
Follow me on Twitter @yungspork