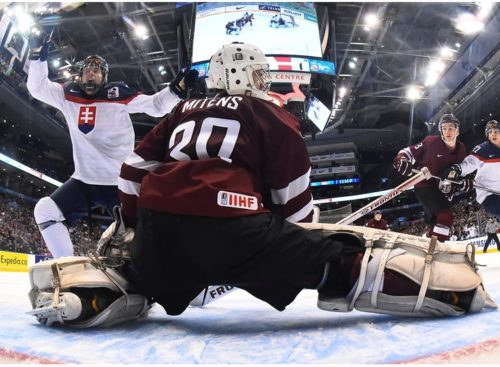 Slovakia played its best and most inspired game of the tournament, putting 36 pucks on net and skating to a crucial 4-2 win over Latvia.
The win gives the Slovaks three points in the Group B standings and means tomorrow's game against Russia (also with three points) doesn't have relegation-round implications.The Latvians have finished the group stage with no wins and zero points and will now face Finland in a best-of-three relegation-round series.
"It was a tough start," captain Erik Cernak admitted, "but we played really well after that. We dominated, really. We were stronger on the puck and pressured them a lot. We knew we had to win. I'm very happy right now."
"They were the better team," affirmed Latvian captain Kristaps Zile. "We can do better, and we'll keep our heads high. Finland is a great team, but it's not impossible to beat them. We'll do our best."
It was a big game on the calendar all along, but soon after the opening faceoff it got even bigger. It was about that time that Switzerland defeated Denmark in a shootout in Group A in Montreal, sending Finland to the relegation round.
"We were watching the game before we went out and during the first period as well," said Milos Roman, who was dominant tonight with a goal and an assist. "We knew if we won tonight, we'd be in the quarter-finals, which was our ambition all along."
That, in turn, meant that the loser of today's game at the ACC would face the daunting task of having to defeat last year's gold medalists twice in three tries to avoid being relegated for 2018. Slovakia responded, peppering two Latvian goalies with 36 shots while surrendering only 24.
Latvia struck first, scoring just 3:40 into the game when a Karlis Cukste point shot drifted and dipped as it reached the net. The trajectory fooled Adam Huska and it slipped through his pads and in.
"That was their first shot on goal" Milos Roman said, "so we weren't nervous at all at that point. We knew we'd be the better team, and we scored soon after."
Indeed, four and a half minutes later the Slovaks got the equalizer thanks to some hustle by Milos Roman. Goalie Mareks Mitens had played the puck behind the net, leaving it for defenceman Tomass Zeile, but Roman pressured Zeile into making a bad pass.
The puck came right to Filip Lestan, and he found the net before Mitens had a chance to get square in the crease.
Most of the second was dominated by the Slovaks, who were the more determined side. They got to the loose pucks, moved up ice with confidence, and generated double the shots of the Latvians.
It wasn't until 18:11 that they were rewarded, though. Milos Roman won a faceoff in the Latvian zone and went to the net. A point shot by Michal Roman was blocked in front, but Milos knocked in the rebound to give Slovakia a huge 2-1 lead heading to the dressing room.
"I won the faceoff and my brother took a quick shot from the point. Our wingers checked their men, leaving some space in front for me when the puck came free," Milos described.
Continuing where they left off, the Slovaks added a third goal just 41 seconds into the third off a point shot from Andrej Hatala that beat Mitens cleanly.
They got an insurance goal at 5:01 on another long shot, this from Milos Roman, that was redirected by a Latvian player in front of the goalie to make it 4-1.
Latvia had a two-man advantage later on, converting at 13:29 as Filips Buncis swatted home a loose puck from the crease, but it was too little too late.