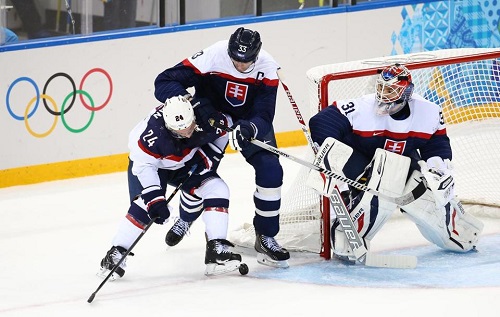 After achieving their best ever Olympic finish in 2010, Slovakia entered the Sochi Olympics with high aspirations. Unfortunately for the Slovaks, they started the tourney with an embarrassing loss to the United States of America, losing 7-1.
John Carlson opened the scoring before Slovakia forward Tomas Tatar got away with going into the zone offside to score a game-tying goal 24 seconds into the second period. However, it all went downhill for Slovakia from there.
The Americans put their depth, balance, speed, physicality and creativity on display in the second period.
Kesler rocketed a one-timer from the top of the right circle past Slovakia goalie Jaroslav Halak 62 seconds after Tatar's goal. Stastny put home a rebound off Halak's pads 1:06 later.
The rout was on.
The Slovaks were attempting to sit back and play a defensive game but found themselves overrun by the Americans.
"All of a sudden they were all over us," Slovakia forward Marian Hossa said.
Backes beat Halak, his St. Louis Blues teammate, at the 8:16 mark when he used his backhand to finish a mad scramble in front of the goalie. Stastny scored his second of the game 5:14 later, redirecting Kevin Shattenkirk's pretty feed from the right circle past Halak at the 13:30 mark of the second.
At this point Slovak coach Vladimir Vujtek turned to Peter Budaj to stop the bleeding, but 50 seconds into his first Olympic appearance since 2006 he gave up a redirection goal to Kessel, who got his stick down to deflect van Riemsdyk's shot-pass from the left circle. Brown made it 7-1 only 57 seconds later when he put a one-timer off a feed from Carlson past Budaj.
Vujtek used his timeout after Brown's goal but it was a little too late.
"I think we might have surprised ourselves with some of the plays we made out there," American captain Zach Parise said. "It looked like it was clicking pretty early for us."
The Slovaks similarly were surprised with how poor they were playing in the second period after going toe-to-toe with the Americans in the first. Despite being down 1-0 and getting outshot 11-4, the Slovaks still had several quality scoring chances on odd-man rushes that they were oh-so-close to finishing.
They made the Americans work in the first. Not so much in the second, Tatar said.
"All of a sudden it was like guys started to be scared to play and nobody wanted the puck," Tatar said. "We weren't good in our [defensive] zone. It was just too easy I felt. It wasn't like they scored nice goals, for a long time in our zone, circling on us. It was out of nowhere 3-on-2s, drop passes and shots. I felt it was easy for them to score goals like this."
Slovakia will hope to rebound with their next game against Slovenia.