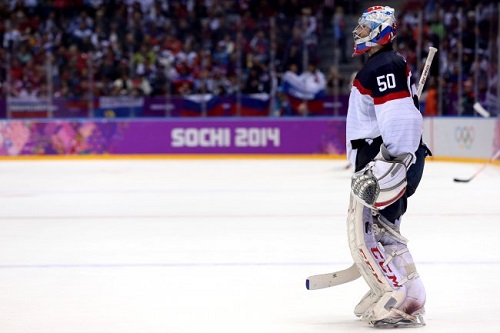 The Sochi Olympics have been a disappointment for Team Slovakia as a whole, losing their opener to the US 7-1, and then dropping their game against Slovenia 3-1. Heading into their game against the home team Russia, Slovakia knew they needed some momentum.
Looking for a spark, Jan Laco was a surprise starter in place of his winless team's two NHL goalies, and the Kontinental Hockey League backup nearly stole a win over the powerful Russian offence by making 36 saves.
"I really thought we had good bounce-back after yesterday," Slovak captain Zdeno Chara said. "We just have to build on that and get ready for our next opponent. You always have a chance in this tournament no matter what you do in your first games. You can still move along if you win that do-or-die game. We have to get ready for that."
Slovakia held the edge in play through a scoreless two periods, before the Slovaks took four straight penalties, several of the calls borderline. As a result, Russia's desperation increased in the third period, outshooting Slovakia 15-2 and barely missing on numerous scoring chances. Laco turned them all away, and defenceman Andrej Meszaros saved the game early in overtime by blocking a rebound shot by Alex Ovechkin, who hasn't scored a goal since the opening minutes of Russia's first game.
"It mattered to us," Meszaros said. "We wanted to prove to ourselves we could play better hockey than we showed in the first two games. I think we showed everybody that we can play with anybody."
Slovakia was simply outmatched in the shootout however, as Alexander Radulov and Ilya Kovalchuk were chosen to take the first two shots from Russia. Both made good on them, with Michal Handzus and Tomas Tatar both failing to beat Semyon Varlamov, winning the game for Russia.
Slovakia will face the Czech Republic in the Quarter-Finals.